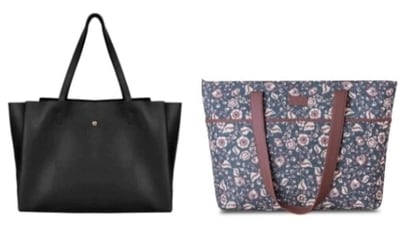 Tote bags for women are all about spacious space to stuff things.
Ask a woman if she would like to buy a new handbag and the chances are she will "yes" despite having many already. A handbag is an attraction that no woman can ignore. While there are all kinds of bags for women, a tote bag is slightly different. It was originally more of a utility bag but has since metamorphosed into a handbag. Neat in design, cavernous when it comes to space and easy to carry along. There is overall easy breezy feel about these bags. They look very apt for all kinds of casual occasions - a brunch date with friends, a shopping session with family members, a lazy Sunday with boyfriend or husband, etc.
The good news is you don't have to step out of your home to buy these bags. With the click of a button they can be delivered right at your doorstep, thanks to online e-commerce platforms like Amazon. We have bunched together some really cool and attractive options, which you should definitely check out.
Zouk Women's Handcrafted Blue Kalamkari Tote Bag
If you live Kalamkari designs, you will fall in love with this bag in an instance - instance?. This vegan leather tote bag for women has one central and main zipper compartment with a zipper pocket inside for a mobile phone, phone charger and earphones. It has two slider pockets in which a face mask, hand sanitizer, napkin, diary can be kept. A back zipper pocket can be used for cash and coins.
ALIZA Women's Tote Bag
This tote bag is available in eight different colours including pink, tan, bottle green, blue, grey among others. This bag has one central compartment with three pockets). It is a large bag, but is very attractive-looking bag. Its outer material is Polyurethane, which makes it a strong and durable material. Now, rock the casual look with aplomb.
Glowic Figure Graphic Tote Bag
This is a classic tote bag design. Made of canvas material and a design which is more of a regular shopping bag rather than a handbag, this tote bag is ideal to dump things after a shopping spree. The makers call the style of this bag as 'preppy' - so such grab it and rush out without a concern! It comes with zipper closure. It has a strap adjustable and double handle type.
Lavie Betula Women's Tote Bag
This handbag is available in as many as 15 colours including beige, black, brown, red, dark pink, gold, green, maroon, ocher, purple among others. This is a small tote and has a top zip closure. This bag has a spacious central compartment with multi-utility pockets. There is plenty of space for keeping phone, portable charger, keys, hairbrush, wallet, sunglasses, sanitizer etc. It also features a well-stitched inner lining for easy accessibility and storage.
Amazon Brand - Eden & Ivy Women's Bag
This bag is available in three attractive colours - black, cherry and cream. This faux leather handbag comes with a zipper closure and double handle strap. It has one central compartment and zip pocket. This is an all-purpose bag, both stylish and quirky! One of the bag is a solid (maroon) while the other two has pretty birds prints.
Price of tote bags for women:
Product
Price
Zouk Women's Handcrafted Blue Kalamkari Tote Bag

₹

4,140.00
ALIZA Women's Tote Bag

₹

1,490.00
Glowic Figure Graphic Tote Bag

₹

1,499.00
Lavie Betula Women's Tote Bag

₹

3,190.00
Amazon Brand - Eden & Ivy Women's Bag

₹

1,899.00
At Hindustan Times, we help you stay up-to-date with the latest trends and products. Hindustan Times has affiliate partnership, so we may get a part of the revenue when you make a purchase.