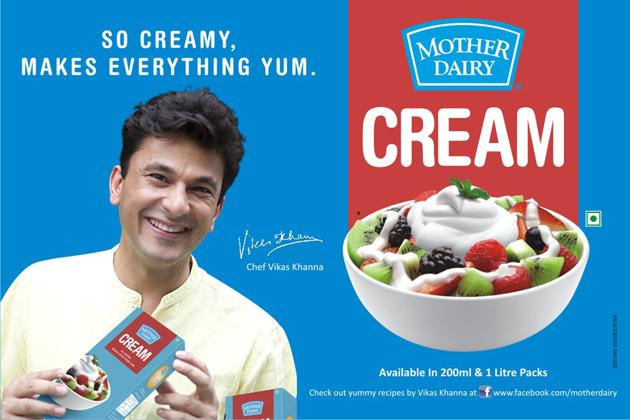 Culinary creations: Here's to adding a rich texture and tasty twist to your dishes
Mother Dairy, a pioneer in the milk business, has tied up with HT City's ongoing Culinary Fest Season 2 to take you on a delectable ride, showcasing flavoursome Indian dishes.
By Promotional Feature, HT Brand Studio
UPDATED ON JUN 22, 2017 06:34 PM IST
Over the years, Mother Dairy has achieved leadership through various innovative programs. Today, the brand manufactures, markets and sells milk and milk products including cultured products, ice-creams, paneer, yoghurt, butter, cheese, cream, buttermilk and ghee. The company also has a diversified portfolio with products in edible oils, fruits and vegetables, frozen vegetables, pulses, processed food like fruit juices, jams, etc., to meet the daily needs of every household.
Mother Dairy has evolved nationally as a company that provides quality products across geographies. Their cream was launched last year keeping in mind the demand of Indian consumers to cook rich and indulgent recipes and experiment with different cuisines at home.
Link to the Mother Dairy site here
The brand has associated with HT City's Culinary Fest season 2 because of its innovative platform which showcases its flair of creativity in the world of food, bringing together relevant content for all food enthusiasts.
Subhashis Basu, Business Head – Dairy Products, Mother Dairy Fruit & Vegetable Pvt. Ltd., says, "With the introduction of Mother Dairy Cream, we continue the promise to provide our consumers with dairy products that are the best in quality and delight all consumption occasions."
He adds, "Today's consumer has evolved and is keen to experiment with food, be it upgrading traditional dishes or trying out new cuisines. Cream is our offering to all such consumers, as it's versatile — whether you want to prepare a sumptuous chicken dish, add an interesting topping to your fruit salad or give your soup a richer texture."
Check out Mother Dairy's videos where the company shares innovative ways to use its cream and give your daily recipes a yummy twist. Mother Dairy always looks forward to such innovative ideas to engage with their consumers.
Close