India Open: Indian shuttlers hope for home comfort
Published on Jan 16, 2023 09:31 PM IST
PV Sindhu, Lakshya Sen and HS Prannoy will lead the hosts' charge in the India Open World Tour event starting on Tuesday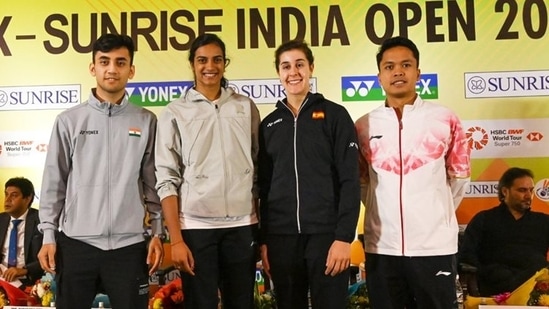 Last Wednesday, when PV Sindhu lost to Carolina Marin in three tight games at the Malaysia Open, coach Park Tae-Sang wrote a moving post on Instagram. "Her lack (sic) is my fault as a coach," the Korean wrote, taking responsibility for his ward's loss to a familiar foe.
In a week's time, Sindhu will have the chance to make her coach feel better as the world No 7 leads India's charge at the Yonex-Sunrise India Open – upgraded to a World Tour Super 750 event this year – that starts here on Tuesday.
Sindhu, who returned from a five-month injury layoff in Malaysia, opens her campaign against Supanida Katethong in a rematch of the 2022 edition's semi-final that the Thai won.
"Coming back from injury is not easy. The confidence level takes a hit and it takes a lot of time to get it back," said the two-time Olympic medallist. The 27-year-old was happy with her performance in Malaysia despite losing to the Spaniard in the opening round.
"I was happy I could play my best. Winning and losing is a part of life but you should be satisfied with your performance. Coming back from injury is not easy. We should be happy we have actually played (in Malaysia). Hopefully, we will have good days," she said.
Marin, her celebrated rival, is pretty much in the same boat. After an injury-ravaged last few years – she has endured anterior cruciate ligament (ACL) tears in both knees since 2019 – that saw her miss the Olympics and World Championships, the 2016 Rio Olympics gold medallist has started the arduous journey back to the top. The world No 9 lost to China's Chen Yufei in the Malaysia quarter-finals last week but is driven by her desire for another Olympic medal.
"I didn't want to give up because I have something on my mind. I want to win another medal at the Olympics," said the 29-year-old, who begins her campaign against Japan's retrieving machine Nozomi Okuhara.
"Injuries were tough physically as well as mentally. To practice every day with pain is not easy. That really affected me. But now, I am happy because I haven't felt any pain since December. I am happy with my performance in Malaysia. I have to keep going and improving," Marin added.
While Sindhu versus Marin is always a blockbuster contest despite a lopsided 10-5 win-loss record in the Spainard's favour, they won't meet before the semi-finals here given the draw.
"Not just Sindhu, I am prepared for everyone. I don't fear anyone," Marin said.\
Lakshya, Prannoy headline men's draw
In the men's section, defending champion Lakshya Sen will face compatriot HS Prannoy in the first round, six days after losing to the latter in the first round of Malaysia Open. The winner awaits a possible third-round clash with world No 1 Viktor Axelsen, fresh from his title win in Malaysia. He will meet Kidambi Srikanth in the first round.
Sen, who beat Axelsen in the German Open semi-final last year in a 70-minute epic, said he is aware of Dane's game given their frequent encounters. The two have met six times in three years with the Dane winning on five occasions.
"Currently he (Axelsen) is playing very well, but the German Open match and the other times I have played him in matches and in practice have told me what to expect. We know each other's game. At the same time, I will be prepared for every opponent.
"As of now, I am preparing for the first match. It's a bit unfortunate I am drawn with Prannoy in the first round. I will take it one match at a time." Sen said.
While humid conditions in Malaysia meant stronger air-conditioning, and consequently more drift at the Axiata Arena, cold and dry Delhi points to more favourable conditions.
"The drift made it a bit difficult to control the shuttle against Prannoy, but it was the same for both of us. Here the conditions will be a bit different. It will be another match, another day. Last match (with Prannoy) was very close and I hope to change the result this time," Sen concluded.