FIFA World Cup 2018: 'I'm here to win' - Neymar shrugs off 'acting' criticism after win over Mexico
Jul 03, 2018 02:20 AM IST
Neymar's strike and a late second goal from Roberto Firmino on Monday helped Brazil edge past Mexico 2-0 to book a spot in the quarter-finals of the FIFA World Cup 2018.
Neymar shrugged off accusations of "acting" after playing a starring role in Brazil's 2-0 World Cup last-16 win over Mexico.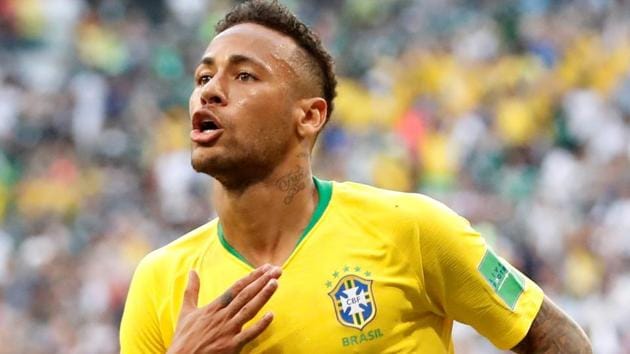 The PSG superstar endured a muted first half in Samara, but burst into life six minutes after the interval to give the Selecao a deserved lead, sliding the ball home from close-range after smart interplay with Willian.
He also played a vital role in Roberto Firmino's second two minutes from time, surging through on goal and seeing his low shot diverted into his team-mate's path by the foot of Guillermo Ochoa.
Neymar also ensured he made headlines for other reasons, though, after his dramatic over-reaction to a clash with Miguel Layun 20 minutes from time.
READ | Neymar succeeds where Lionel Messi and Cristiano Ronaldo fail
The Mexico substitute did appear to make contact with Neymar's leg as he retrieved the ball on the sideline, but the incident hardly seemed worthy of the histrionics that followed, and referee Gianluca Rocchi was not convinced to brandish a card.
Mexico head coach Juan Carlos Osorio subsequently admonished Neymar, accusing him of "acting" and describing the 26-year-old as a "poor example for the world of football and all the children".
The world's most expensive player refused to be drawn into a war of words afterwards, though - insisting he is happy to let his football do the talking after setting his side up for the quarter-finals.
Speaking in his post-match press conference, he said: "I think it's more an attempt to undermine me than anything else.
"I don't much care for criticism or praise because this can influence a player's attitude.
"In the last two matches I didn't talk to the press because there's too many people talking, some people get excited and show off.
"I just have to play, help my team and nothing else.
"I'm here to win so I hope that I can improve, I knew I would need time to get back to my normal pace.
"Today I feel much better and I'm very happy for the match, not only individually but for the whole team. I congratulate my team for the work and effort and we're improving all the time."