Champions League: Manchester City win thriller but Real Madrid far from being out of it
Updated on Apr 27, 2022 08:11 PM IST
Inter, Chelsea and Atletico have made Guardiola's teams pay for being profligate in the Champions League.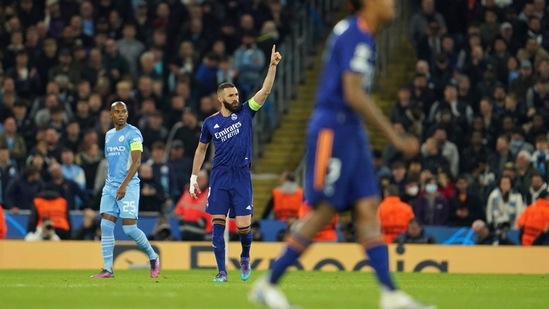 Such is the need for order in their build-up that Manchester City started with a pass to Ederson on Tuesday night. Yet, it was the speed of their counter-attack that surprised Real Madrid when Kevin de Bruyne found Phil Foden without breaking stride. Had Foden's shot been on target, it could have been 3-0 inside the first 30 minutes. It could have been that one minute earlier too had Riyad Mahrez not blasted into the side netting. Even for a team that has the incredible Karim Benzema that would have been too high a mountain to climb.
City scored four on the night but the way cameras caught Benzema waving to the away fans, it didn't feel like Real had lost by a goal. "I want to try to convince my players that we won the game, that they don't have to be heads down," said Pep Guardiola, seeking his first Champions League title since 2011. After being the first English side to notch up three successive wins against Real, the City manager said the performance against Liverpool and on Tuesday was exactly what he wanted.
Guardiola's evaluation of the first leg of this Champions League semi-final wasn't inaccurate. City were about slick passes, circulation and smart runs that got Real's edgy backline out of position—Bernardo Silva running one way to take out two defenders and enable Mahrez to glide in led to the first goal after 94 seconds; the fastest in a Champions League semi-final. City sliced Real down the centre and scored through crosses.
They pressed from the off and it led to nine Real players protecting their penalty area. Yet none could spot De Bruyne's run and by the time Dani Carvajal put his foot up for the block, City were up 1-0. Thrice they had a two-goal lead and when Gabriel Jesus made it 2-0—his third goal in three games against Real—it wasn't the first time the Brazilian had got in between Real's centre-backs. For the first 21 minutes, Benzema and the ball were in a long-distance relationship that wasn't working. In the 22nd, his return pass to Ferland Mendy was intercepted. On the other hand, Oleksandr Zinchenko's underlaps ensured Joao Cancelo wasn't missed and when Fernandinho stepped in as right back because John Stones was injured, he produced an assist for Foden.
If Kyle Walker still said on Twitter, "I've woken up disappointed" it is because they are up against Real. "Our history, having won 13 titles in this competition, makes things easier for the players because they feel how heavy in a positive way the Real Madrid jersey weighs in a Champions League game," Real manager Carlo Ancelotti said on Monday.
This term, Real have come back twice from almost impossible situations in this competition. And just to show that the wins against PSG and Chelsea were no fluke, Real did that against Sevilla away in La Liga. Benzema played a crucial part in all those results and with a brilliant first-time side-volley and a 'Panenka' penalty—having missed twice against Osasuna—the Frenchman ensured that the contest wasn't killed off in Manchester. "Be ready to see something magical, we will win the second leg at Santiago Bernabeu," Benzema told Movistar Plus. By then, Real could have won La Liga with City still in an intense two-way fight for the Premier League.
Benzema was visibly agitated after Jesus scored; David Alaba was staring into middle-distance and Luka Modric looking dazed. As the bleachers got the party started by belting out 'Hey Jude,' Ancelotti was somewhere between being stunned and the epitome of sangfroid. Soon, Carvajal's backpass for Thibaut Courtois was so wide that it led to a corner-kick. Real were looking rattled.
Then Mahrez missed, leaving Guardiola looking apoplectic, followed by Foden. With a bit of luck, Mahrez could have scored a hattrick and it did look like he would get at least one goal but his shot grazed the upright and fell for Foden whose stab was blocked by Carvajal. After Foden and Vinicius Jr had scored— Fernandinho journeying from assist-provider to being nutmegged and outpaced in two minutes—Zinchenko found Aymeric Laporte inside the penalty area but the central defender's shot was too close to Courtois. Bernardo Silva's quick thinking restored City's two-goal advantage till Laporte headed the ball into his hand and conceded a penalty.
The misses though continued for City. Neither Raheem Sterling nor Ruben Dias could get a proper connection to a Mahrez delivery. Dias again slid in to meet a probing ball from Mahrez but fell short. "We could have killed them off," said Foden.
When Vinicius Jr scored, Guardiola was slumped on his chair sucking at a water bottle. Benzema's penalty conversion found him hunched on a box. In the past, his teams have been punished for being profligate. Jose Mourinho's 10-man Inter suffused with dark arts and the defensive nous typical of Italian teams had stymied Guardiola's Barcelona in 2010. At Chelsea in 2012, Barcelona battered the framework and had 72% possession but lost to a Didier Drogba goal. In the return-leg, Chelsea, down 0-2, and with John Terry shown the red card, rallied to make it 2-2 after Lionel Messi missed a penalty.
In 2016, managing Bayern Munich, Guardiola lost to Atletico Madrid despite having 35 attempts and 12 shots on target. This month's 2-2 draw against Liverpool in the Premier League too felt the same with Guardiola admitting that City had missed an opportunity to zoom ahead.
"Of course, City has the advantage but it is not a big advantage," said Ancelotti.
Close Story
Personalise your news feed. Follow trending topics