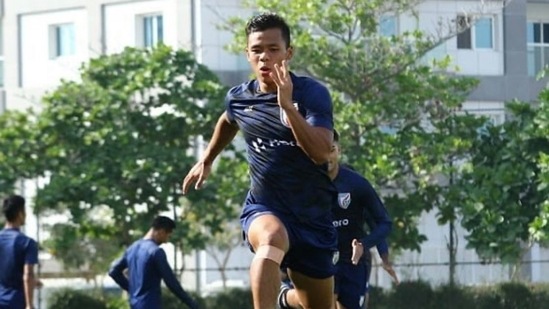 Indian Arrows showed us the way after U-17 World Cup football: India midfielder Suresh Wangjam
Suresh Wangjam's ISL performance was noticed by India head coach Igor Stimac, who called him up to the national team for two international friendlies in March, against Oman and UAE.
PUBLISHED ON MAY 29, 2021 07:48 PM IST
For Bengaluru FC, the 2020-21 season of the Indian Super League (ISL) was one to forget. Not for young Suresh Singh Wangjam though. While the former champions laboured to finish seventh in the 11-team competition and head coach Carles Cuadrat was sacked midway through the campaign, 20-year-old Suresh cemented his place in the starting line-up with impressive outings in midfield.
His second season at the club was more fruitful, though there is a tinge of regret. "It is such a motivation to be getting match time at BFC. But in the two years I have been here, we haven't won any trophy. I'm eagerly looking forward to the next season to help my club win one," Suresh said.
The youngster's ISL performance was noticed by India head coach Igor Stimac, who called him up to the national team for two international friendlies in March, against Oman and UAE. The player from Manipur played both games, making his debut in the 1-1 draw against Oman in Dubai.
Upon returning to India, Suresh joined his club straightaway. "Unfortunately, I haven't been able to go home. I directly joined BFC and we trained in Goa for over a month for the AFC Cup," he said. The effort went waste after a bio-bubble breach by three teammates in Maldives ahead of Bengaluru's AFC Cup play-off match saw the group fixtures featuring South Asian teams, including ATK Mohun Bagan, postponed.
Suresh will have to wait to play in the group stages as Bengaluru FC failed to make the grade in its previous attempt in 2020 (the main rounds were cancelled then due to Covid-19). "I came to Bengaluru from Maldives and was in quarantine for two-three days. Then I was called for the national camp and came to Delhi where I was again in isolation for three days before flying to Doha," he said from the Qatari capital.
Suresh is currently preparing for India's remaining games in the World Cup qualifiers—against hosts Qatar (June 3), Bangladesh (June 7) and Afghanistan (June 15). After the AFC Cup disappointment, the former Indian Arrows player is keen to cash in.
"Getting this opportunity means a lot to me. We have a match against the current Asian champions (Qatar). I am looking forward to these matches as a platform to improve. However, on the pitch and in the camp the responsibility is equal. It's not that because I am a junior, my responsibility is less than the seniors."
Suresh finds a stark difference between the previous India camp in March and the one in Doha—the return of seniors like Sunil Chhetri, Pronay Halder, Rahul Bheke and Brandon Fernandes. "In my first camp, not many senior players were there; many of them were missing due to injuries. But the current camp is a different ball game. Training with a senior pro enhances the quality of the sessions."
It was at the 2017 FIFA U-17 World Cup in India that the spotlight was first turned on Suresh. India lost all three games on tournament debut—by virtue of being the hosts—but it proved the springboard for Suresh and many teammates to launch their careers.
"The experience was not about the three matches. Rather it was about the preparation leading to it, which was unprecedented. We played international matches, international tournaments, friendly matches against top clubs who were exceptionally strong," he said.
"It made us understand that international football even at that age was played at such a rapid pace, a lesson which the entire U-17 World Cup batch carries with it."
Many young Indian footballers fall off the grid after shining at youth level largely because centralised youth tournaments do not provide significant game time and directly taking the plunge in seniors is even more challenging.
Suresh and a few others have been fortunate to have had institutional support in that crucial phase of their careers in Indian Arrows. "I often hear that the U-17 World Cup shaped our careers. I will always say that unless Indian Arrows were there, we would all have been lost. The transition phase was what we were worried about. Game time was so important, it helped us mature."
From Doha, Suresh is keeping track of the coronavirus second wave in his home state of Manipur that has seen a rapid surge in recent weeks like the rest of India. It is why, Suresh said, he had no complaints having to spend time in quarantine or bio-bubbles.
"I feel privileged that we are still getting to play football during this situation."
Please sign in to continue reading
Get access to exclusive articles, newsletters, alerts and recommendations
Read, share and save articles of enduring value
Close