Lionel Messi's wait for FIFA World Cup title ends as Argentina secure dramatic penalty shootout win over France in final
Dec 19, 2022 04:55 AM IST
The South Americans ended a 36-year wait for a third World Cup title by winning the penalties 4-2.
It needed the hand of Emiliano Martinez, the boots of Lionel Messi and a goal from Angel di Maria. Argentina were put through the wringer but after regulation time and extra-time ended 3-3, they ended a 36-year wait for a third World Cup title by winning the penalties 4-2.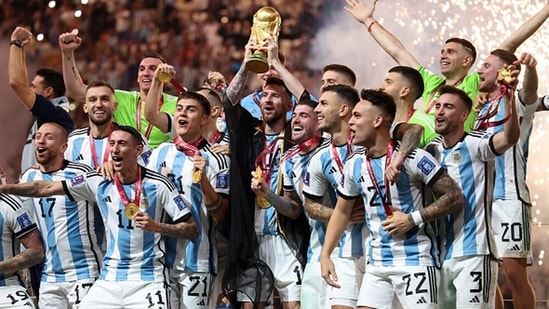 They switched off the lights here for the presentation ceremony to ensure that only the stage shone. So, Lionel Messi was the cynosure when he walked up to collect his prize of being the player of the tournament. He had won it once but Argentina had lost the 2014 final so it didn't mean much. This time, after taking the prize, he stopped to kiss the World Cup and smile. In a black robe, he bounced gently to the team before lifting it up as the lights came on.
After looking like they were anywhere but at Lusail, France levelled in a less-than-two-minute burst and a final that seemed Argentina's for the taking came alive again. Both times, Emiliano Martinez had gotten a hand to Kylian Mbappe's efforts. Both times, he failed to stop them. Not because of any failing on the part of the Argentina goalie but because they were so powerful and so well-placed.
The penalty was won by Randal Kolu Muani, a first-half substitute. Nicolas Otamendi did to him what Ousmane Dembele had done to Di Maria. Mbappe stepped up and fired, Martinez guessed right and flew to his right, got a hand but it was 1-2 France. In 97 seconds, it was 2-2.
Messi's challenge on Kingsley Coman, another of Deschamps' super subs, was futile and the French forward found Adrien Rabiot who passed to Marcus Thuram, a first-half substitute, who pinged it to Mbappe in one touch. Without stopping, Mbappe fired a volley and president Emmanuel Macron was jumping in joy. invisible till then, like their team, the French fans were trying to match the Argentines in decibel levels.
France could have escaped to victory in regulation time which included eight minutes of stoppage time. Kolu Muani couldn't touch an Mbappe delivery and then, Thuram was booked for diving though Enzo Fernandez had made contact. It could have been 3-2 again after Eduardo Camavinga found Adrien Rabiot whose shot Martinez couldn't collect on the first attempt. But Cristian Romero knelt and cushioned the ball for the goalkeeper to collect on his second. Equally, Argentina could have clinched it had Hugo Lloris not saved a Messi effort from range that was swinging away.
This was riveting stuff that the 88,966-strong Lusail didn't expect. Like in the semi-final against Croatia, Argentina were in control. Like in their quarter-final, France made them pay. Messi's goal in the 108th minute, pouncing on Lloris saving Julian Alvarez's shot looked to be enough but then Gonzalo Montiel's hand hit an Mbappe delivery. Penalty again and 3-3 through an Mbappe hat-trick.
Till the goals, the defending champions were flaccid. Not as much as Brazil in 1998 but close. France did not know what was happening as Argentina ran the game. Lloris does not give away much but after the second goal, the cameras caught the France captain looking desolate. Di Maria had struck finishing a move that began deep in Argentina's defence. In five touches involving a defender, Alexis Mac Allister, Messi, Alvarez, Mac Allister again. Argentina found Di Maria who had cut in from the left.
With surgical precision, France had been carved open. Such a shambles was the defence that had been caught out by the Messi flick, while facing his own goal, to Alvarez that Aurelien Tchouameni was desperately tracking back to contain Mac Allister and Jules Kounde abandoning Di Maria to try and double team on the Argentina midfielder. It didn't work and Di Maria finished with a clever dink.
Used on the left as inverted winger, Di Maria was involved nearly from the off. He had worked with Rodrigo de Paul and Messi to find Alvarez in the third minute and was at hand to feed De Paul whose shot was deflected. By the eighth minute, Argentina had set the marker for the night: Di Maria would ensure that Dembele would be occupied with defensive duties and it would force France to channel their attacking efforts only through the left. Which Argentina would then block by adding numbers to that side.
The torment continued with Di Maria finding Messi, the captain returning the compliment a little later and then the winger blasting over from close. Before Argentina's goals, Di Maria had ensured that Olivier Giroud's header wasn't on target by staying strong on the France No. 9. He won the penalty by making most of a Dembele touch after having dribbled past the France forward.
Head down, eyes closed, Messi concentrated, Lloris stood still. The penalty against Croatia was a powerful shot that was climbing; this one, like his penalty in the shootout, was a soft-as-feather placement. Arms spread, Messi smiled and ran away towards the corner flag before lying down as Argentina fell on him in a heap. Against a team that had no shots on target in the first half, Di Maria's goal seemed to have settled the final. But then only half the evening was done.