Messi, Argentina spark to life
Published on Nov 27, 2022 09:15 PM IST
Messi's goal and that of Enzo Fernandes ended thoughts of a premature exit for the Albicelestes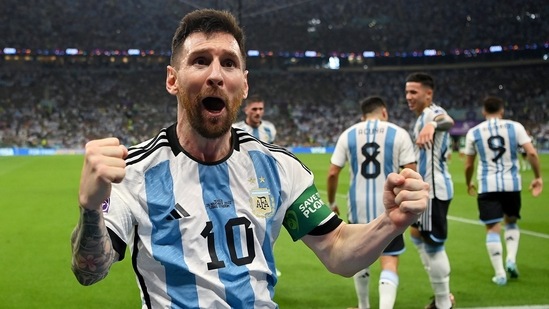 Guillermo Ochoa's view was blocked by a mass of bodies in green. It was the same from the other side for Lionel Messi. But Ochoa couldn't see what Messi did and he fired a shot before Hector Herrera slid in to block. No offence to Ochoa, who has been to as many World Cups as Messi, but when man meets superman, it is never an even contest.
Messi's goal and that of Enzo Fernandes, the first four minutes after an hour into the edgy, intense and physical contest and the second in the 87th minute, ended thoughts of a premature exit for Argentina. "I think it lifted a discomfort, a weight off our shoulders," said Messi, speaking to reporters nearly 90 minutes after the game at Lusail Stadium.
Also Read | FIFA World Cup 2022: Morocco defeat Belgium 2-0 to claim long-awaited WC win
"Did you notice his eyes after he scored? I did," said Sergio Levinsky, a journalist from Argentina in his 10th World Cup and whose book, "Maradona, a rebel with a cause" is still considered one of the best on the tormented genius. "It looked like Messi was close to tears," said Levinsky after Messi had buried himself in Angel Di Maria and then in a heap of Argentina shirts. Assistant coach Pablo Aimar definitely was and that showed what the goal meant not just to the scorer but to the staff and the country.
The celebration, uncharacteristic for a man not known to be flashy, needed to be put in perspective said Levinsky. "Messi wanted to take the pressure off the team by scoring the goal. He is the captain and he wanted to pass a message that it was on him to get Argentina out of the problem they found themselves in." This was his final World Cup and Argentina were staring at possible elimination, he said.
Levinsky's comment fit with what Messi said after the match. "The days were very long after the defeat in the opening match (to Saudi Arabia) and we were eager to turn the situation. Now we have another chance and some peace of mind."
In the front row of the press pack, sat 'Messi' in a deep blue Argentina shirt, the interviewer and interviewee showing that there is, after all, lots in a name. Like it has been at every World Cup since 2006, and pretty much everywhere football is played, people of all ages were seen with "Messi' on their backs: by the takeaway at Al Mansoura Metro station, in trains to Msheireb, where all three metro lines meet, and of course in and around the Lusail.
Not all of them were Argentine, a trio of Indians were in the thobes they said they had bought at Souk Waqif but had pulled on Argentina shirts over it. On Sunday, through the drive to the Japan-Costa Rica game at Ahmad bin Ali Stadium in Mohammed Sattar's taxi, the man from Chittagong referred to Argentina as "we". The 2-0 win against Mexico, he said, has got him to buy a ticket for the Argentina-Poland game and get a Hayya Card which he had hung from the rearview mirror.
Messi accepted that the first half was difficult, "due to the situation and our need for a win." Argentina, he said, couldn't find space and couldn't move the ball side to side. "In the second half we started doing what we need to do, finding space between the lines and getting the ball closer to the area (of Mexico's goal). And the goal changed the game for us. Now we can again do what we came here for," he said.
Given the import of the last two comments what stood out was the matter-of-fact manner in which it was made by a man seeking a crowning glory to a glittering career. Possibly because the 2022 avatar of Messi is more serene, possibly because Argentina coach Lionel Scaloni had spoken of the need for "calm".
"We were going too fast," said Messi about the first half where Mexico shut out Argentina's talisman denying him space in the kind of areas that led to the first goal.
"We adjusted by playing three at the back and were more aggressive. We wanted to play out from the back," said Scaloni.
"It helped that Julian (Alvarez) could play diagonal balls and Enzo could distribute," he said of the player who replaced Lautaro Martinez one minute before Messi's goal. "Sometimes these things work, sometimes they don't. Today, everything turned out well."
It is "thrilling" to watch players leave everything on the pitch and "very good opponents", said the Argentina head coach. "We have very good players and on top of that we have Leo who again did what he does best."
Reacting to Aimar, a player Messi grew up idolising, crying on the bench after the first goal, Scaloni said: "The feeling that this is something more than a football match is not nice. I got a message from my brother and he too said he was crying. I don't think we are playing something more than a game but it is difficult to make people understand that."
Asked whether he was suggesting Argentina should take its football less seriously, Scaloni replied: "That is not what I am saying and I don't want to make headlines here. We won, we enjoyed and tomorrow we start again. Happiness lasts only ten minutes, the sun will again rise tomorrow. We will try to win against Poland but if we can't we will try to bring our A game."
It was a comment that segued well with Scaloni said of his captain in possibly his final World Cup. "Messi should enjoy the World Cup." Given what's at stake that could be difficult but it is also the surest way to end what has been a Sisyphean struggle.