Super Ziyech spurs Morocco to upset win over Belgium
Updated on Nov 27, 2022 10:37 PM IST
The winger sets up a goal and runs the African side's game in a 2-0 upset win over Kevin de Bruyne's world No 2 team that edges them close to a World Cup Round of 16 berth.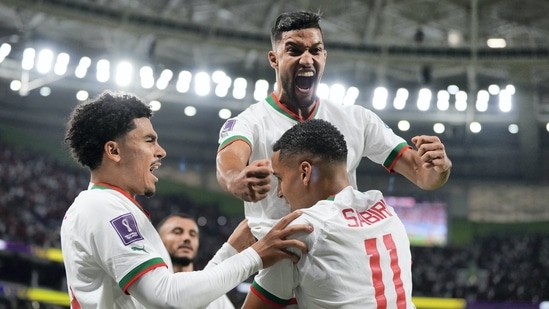 Morocco outwitted a listless Belgium with two second-half goals in the World Cup Group F on Sunday, edging closer to a knockout berth and leaving Europe's highest-ranked team in danger of first-round elimination.
The African side had served notice by holding Croatia goalless in their opening group fixture. If that was a fine defensive show that frustrated the skillful Luka Modric and teammates, they went one big step ahead by leaving the world No 2 side rattled.
A sea of Morocco fans in red were singing and roaring their team on throughout and were delirious in the end, while Belgium were left to contemplate another World Cup slipping away from its golden generation.
Belgium were unimpressive in their 1-0 win over unfancied Canada, where many felt the ageing bunch of world-class players were lucky to collect full points. On Sunday though, there was no escape from the well-oiled, crafty and disciplined Morocco.
Goalkeeper Thibaut Courtois had saved the day against Canada by stopping a penalty, but the man crowned the best shot-stopper at the Ballon d'Or awards had an off-day and was at least partially at fault for both the goals Morocco scored.
After a dull first half when Belgium could not pierce Morocco's defence, it fell apart as their African rivals pressed higher up on the field. The pressure almost paid off in first-half injury time when Morocco's best player, the left-footed Hakim Ziyech playing as an inverted winger on the right, whipped a free-kick low off the right edge of the penalty box.
Morocco skipper Romain Saiss blocked Courtois's view by moving across him up close, and the goalkeeper reacted too late to let the ball into the net. But VAR checks confirmed Saiss was off-side while impeding. But Belgium did not learn from the clever Morocco ploy and paid for it.
With both teams pressing for a goal, Morocco were awarded a free-kick on the left close to the corner flag in the 73rd minute. Substitute Abdelhamid Sabiri, who had come on five minutes earlier, produced a similar, low free-kick and Saiss once again blocked Courtois' view till too late and he let in off his body at the near post.
Belgium skipper Eden Hazard had conceded on Saturday that the players could be too old to mount a serious challenge. The playmaker himself was a pale shadow of his past self. Though Belgium's pace picked up after he was substituted, and striker Romelu Lukaku was brought on late for his first game in a month, there was no real threat.
Kevin de Bruyne cut an isolated figure as his passing moves and crosses went abegging. Their best chance fell to Vertonghen in the 81st minute, but he headed a corner just wide of the first post.
But a defensive error soon after killed the game into injury time. A clearance by Morocco goalkeeper Munir Mohamedi was inadvertently headed backwards by a Belgium defender and Ziyech—the Chesea winger had quit Morocco duties after being ignored for the Africa Cup of Nations but reversed his decision for the World Cup—pounced on the loose ball.
Though he was chased down, Ziyech cut back and substitute Zakaria Aboukhlal turned it to the roof of the net with Courtois again beaten at the near post in one of his most forgettable matches.
Belgium (3 points), with a win and defeat, are not out of it, but run into Croatia in their last group game. Morocco, with four points from a draw and win, meet Canada next and are well placed to emulate their 1986 team by qualifying for the Round of 16.