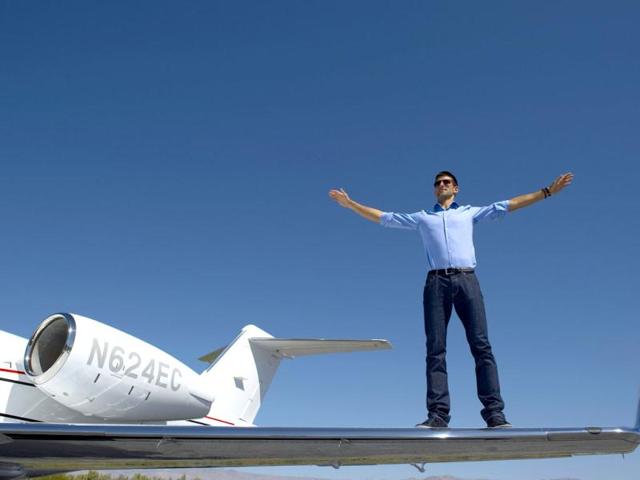 I'm not unbeatable, says Djokovic
Novak Djokovic has been the game's top player for more than a year but the Serbian is not taking his world number one ranking for granted.
UPDATED ON MAR 10, 2012 12:48 PM IST
Novak Djokovic has been the game's top player for more than a year but the Serbian is not taking his world number one ranking for granted.


Djokovic, who has clinched four of the last five grand slams and posted a remarkable win-loss record of 70-6 in 2011, is well aware that fortunes can change very quickly in the sport.
"I don't consider myself being on the top of the world, being untouchable or unbeatable," the 24-year-old told reporters on Friday while preparing for his opening match at the Indian Wells ATP tournament.
"That's out of the question. I always try to give 100 percent in every practice that I have, I always want to have the positive mindset in preparing well for every event, for every season."
Asked what had been his proudest achievement since the start of his red-hot run last year, Djokovic replied: "I'm very, very proud of my consistency, the results throughout the whole year.
"But the biggest success was Wimbledon, winning that title, winning the tournament that I always dreamed of winning, so I guess I can take that out as my proudest."
Djokovic, who outlasted Spaniard Rafa Nadal 5-7 6-4 6-2 6-7 7-5 in an epic final at the Australian Open in January, will be aiming for a fourth consecutive grand slam crown at the French Open in June.
Roland Garros has always been his favourite grand slam venue but he knows he will face an uphill task their on its claycourt surface in a tournament he has yet to win.
"I've had a good couple of years playing in Roland Garros, unfortunately I didn't reach the finals yet in Paris," Djokovic said.
"I have played three semi-finals there, mostly against Rafa, and had some really good matches there.
"I love playing at Roland Garros, so hopefully this year I can make at least a step further."
Grand Slam talk
While Djokovic accepted there would be speculation about a calendar year grand slam following his successful title defence at the Australian Open, he prefers to let others do the talking.

"The fact is that there is always pressure and always expectations for somebody who is a top player, and it's something that you can understand and expect," the Serb said. "But you have to deal with the pressure.
"You have to understand it, cherish it and accept it as a challenge, just try to take the best out of it. I need to keep my single-minded focus ... because that is the way that I can stay grounded and I can stay committed.
"For all the other speculations off the court, I cannot influence those and I understand that there will be talk."
Djokovic, who beat Nadal 4-6 6-3 6-2 in last year's final at Indian Wells on the way to a 41-0 win streak that finally ended with his French Open semi-final loss to Roger Federer, was delighted to be back.
"It's always good to be back in a place where I have done so well in the last five years, played finals and winning two titles," he said.
"It's always something to look forward to because it's one of the best events that we have in the sport.
"You play against best players in the world and the conditions here are suitable to my style of the game. The courts are a little bit slower, which I like and prefer better, so I'm looking forward to this week."
Djokovic, also champion at Indian Wells in 2008, will face Kazakhstan qualifier Andrey Golubev in the second round, having been given a first-round bye.
Close