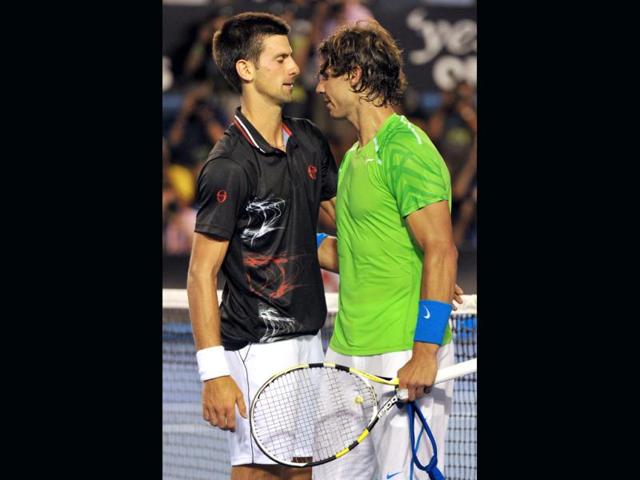 No fixation to end Djokovic dominance, says Nadal
Rafa Nadal has lost his last seven matches against world number one Novak Djokovic but the Spaniard denies that he has a burning obsession to beat the Serb.
UPDATED ON MAR 09, 2012 09:29 AM IST
Rafa Nadal has lost his last seven matches against world number one Novak Djokovic but the Spaniard denies that he has a burning obsession to beat the Serb.


The pair last met in January's Australian Open final when Djokovic clinched the title for a third time with an epic 5-7 6-4 6-2 6-7 7-5 victory that lasted almost six hours.
While Nadal enjoys a 16-14 career advantage over the Serb, he has been beaten on all types of surfaces in their past seven encounters, all of them in finals.
"I say it always the same, I want to improve for me," world number two Nadal told reporters on Thursday while preparing for the Indian Wells ATP tournament in the California desert.
"I don't want to improve to beat Novak, to beat Roger (Federer) or to beat nobody. I try my best every day to improve my level of tennis, to be a better player year by year.
"And if that's enough to beat Novak, fantastic. If not, I'm gonna keep working. When I wake up every morning and I go on court for practice, I don't think about Novak. I think about the things I need to keep improving, I think about myself."
Nadal, a 10-times grand slam champion, said he had maintained the same strategy throughout his career, both before and after he eclipsed Federer as the game's top player.
"It's worked well all this time, maybe now it's not working any more as well but hopefully yes," the Spanish left-hander added with a smile.
"But that's my way and that's the way that my mind works.
"I don't have the spirit of revenge, I don't have the spirit of obsession with another player. My spirit is to try and be a better player every day for myself. That's my satisfaction."
Closest rivals
Asked whether he felt the sport's number one player would always lift the game of his closest rivals, Nadal replied:
"To have somebody in front always helps to have a reference in what you have to improve.
"When you are behind somebody, it is sometimes a little bit easier than when you are on the top. At the same time, I prefer to be in front."
While Djokovic clinched his fifth grand slam title at Melbourne Park in January to continue his recent domination over the Spaniard, Nadal was largely happy with how he had performed against the Serb.
"I accept very well the losses, I think I accept well the victories too," the Spaniard smiled.
"I came back home very happy about my tournament in Australia, the way that I played, the way that I played lots of moments in the final.
"I am not happy about my second and third sets but for the rest of the match, I am happy with how I did. In general, it was a very positive tournament for me.
"I don't know if I want to be the one that will improve Djokovic. I am happy with how I did and I am going to keep working hard every day to try to keep having chances to compete against everybody with good chances of success. The periods of victories for everybody have an end and that's part of life."
Nadal has spent the last month relaxing at home with his family and friends in Mallorca, and practicing "a little bit" for the first Masters Series event of the year.
"It is important to have periods off to try to work on the things that you really need to improve," said the Spaniard, who will play either Colombian Alejandro Falla or Argentine Leonardo Mayer in the second round at Indian Wells after enjoying a first-round bye.
"You can do a lot of things really well in practice but you need to adapt these things in the game later, and that needs time and matches.
"This is the most important part of the season for me, from here until Wimbledon, and this year is an Olympic year too so that's the moment where I have to be ready for everything."
Close