Kolhapur: The city with an atmosphere for sports
Feb 04, 2023 09:08 PM IST
The city in southwestern Maharashtra has a heady blend of potential, popularity and passion for sports but where does it all come from?
Around a fortnight ago, All India Football Federation (AIFF) president Kalyan Chaubey tweeted a video of a packed football stadium—fans waving flags, whistling aloud and adding a dash of Holi colour to the air—for a Santosh Trophy game. He captioned it saying Indian football has "huge potential and popularity to grow".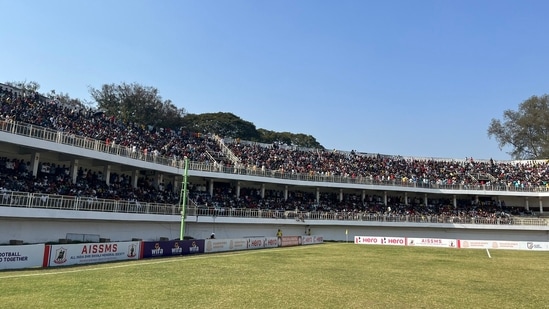 This was in Kolhapur, a city in southwestern Maharashtra with a heady blend of that potential, popularity and passion for sports. Not confined to just football.
From about 18,000 spectators flocking to watch Maharashtra play West Bengal in last month's Santosh Trophy game to delivering a consistent battery of international shooters, from carrying forward the centuries-old legacy of kusthi (wrestling) to producing a couple of age-group national tennis champions recently, the land famous for its spicy cuisine carries an equally rich sporting flavour.
One that gave the country Khashaba Jadhav, the 1952 Helsinki Games bronze-winning wrestler who was independent India's first individual Olympic medallist. And world-class shooters in Tejaswini Sawant, Rahi Sarnobat and, among others, Swapnil Kusale, who earned a quota spot for the 2024 Paris Olympics at last year's Cairo World Championships. And Virdhawal Khade, the 2010 Asiad bronze medallist swimmer. And Aniket Jadhav, the footballer who was part of India's U-17 FIFA World Cup squad and currently plies for Odisha FC in the Indian Super League. And tennis hopefuls Sandesh Kurale, the 2021 U-18 national champion, and Aishwarya Jadhav, India No 1 among U-14 girls last year.
For a small town limited in facilities, infrastructure and exposure, Kolhapur is more about a fine sporting culture than just an odd freak talent.
A lot of it is down to its deep-rooted history. Under the reign of Chhatrapati Shahu Maharaj (1894-1922) who had an avid interest in sports, several wrestling mud akharas—known as talims—were built all around the city. Those talims still occupy pride of place in every nook and corner of Kolhapur.
Except now, it extends beyond wrestling. And so, seven of the 16 A Division football clubs in the city are born out of a talim.
"The wrestling movement gave rise to the talims, but other associations have tapped into them. Football is the best example of that," Chandrashekhar Sakhare, Kolhapur's District Sports Officer (DSO), said.
"They want to have a club of their own. So almost every lane here has a football club, almost every lane here has activities for other sports. Associations of shooting, archery, etc, too have taken cue. There's a lot of support between clubs and associations here. Ek mahol sa ban gaya hai (it has built an atmosphere for sports)."
That "mahol" is palpable for football especially (the city's streets had been dressed with cutouts of Lionel Messi and Neymar during last year's FIFA World Cup). Each of Maharashtra's five Santosh Trophy home fixtures at the Chhatrapati Shahu Stadium, built under Shahu Maharaj's reign and maintained till date, was filled to its 18,000-capacity, with tickets free.
The ground also hosts the various division league games organised by the Kolhapur Sports Association (KSA), established in 1940 and affiliated to the Western India Football Association. Those club games are usually packed too, said a KSA official.
However, Kolhapur's sporting ethos is as much about understanding its intricacies as it is about passionately following it. Rahi Sarnobat, the 2018 Asian Games gold medallist shooter from the city, knew it already but felt it all the more after her disappointing Tokyo Olympics outing.
"When I went for my first international event, some 30-40 people whom I never knew or met in my life turned up at my place to congratulate my family. The same amount of people also visited my home after I came back from the Olympics, saying, 'it's OK, this happens'. That is what Kolhapur is about," the 25m pistol shooter said.
Shooting too goes a long way back to the city's roots. Guns and rifles were a big part of almost every Kolhapur household from the times of hunting, which no longer exists while the weapons do. "Till now, my house has a sword that is hundreds of years old. That's how I had picked up a gun too," Sarnobat said.
"Because there is so much sporting history here, parents do not stop their children from playing or pursuing sport. In fact, it is encouraged."
What compliments that historically-woven connect is the attitude and hard work of a Kolhapur sportsperson, added Sarnobat who was coached by Ajit Patil, the renowned shooting coach in Kolhapur who has also trained the likes of Sawant, Navanth Fartade (India's first air rifle junior world champion in shooting) and Rudrankksh Patil, the current 10m air rifle world champion.
"That is ingrained in us. And we go about our work without complaining a lot—even though, being a small town, we have limited infrastructure."
It explains how the four-time World Cup gold medallist progressed from starting out in a makeshift range with a tin roof which would often get flooded in monsoons. Or why Kurale went from practising on a makeshift claycourt built by his father on an empty farmland in his village to winning the 2021 U-18 singles national title.
Tennis, a largely elite urban sport, also finds an imprint in Kolhapur. It hosted a national tournament last year on the clay courts of Kolhapur District Lawn Tennis Association and both Kurale and Jadhav, who played at Wimbledon last year as part of an Asian U-14 girls' team, are products of the city-based Arshad Desai Tennis Academy. "We have seen a steady increase in kids taking up tennis from the time we opened our academy here around 10 years ago. A lot of the boys from the villages here have a naturally strong built, which helps," Desai said.
Still, infrastructure challenges of a small town remain. Kolhapur only has a Sports Authority of India (SAI) extension centre in Nool, where hockey takes centre stage (the DSO said plans to build an astroturf this year are underway). It has a couple of shooting ranges, but neither electronic nor of international standard. "The infrastructure is sufficient, but only uptil a certain point," Sakhare said. "Once the athlete reaches a certain level, he/she goes to Pune or Mumbai for better facilities, coaching etc."
Like Sarnobat did. But not before keeping the legacy wheel of her hometown's sporting culture churning. Growing up studying in an all-girls Marathi medium school, the 32-year-old Olympian writes handwritten letters to the current lot of her school.
"Even if one person goes on to represent India in international tournaments, it impacts and inspires many others here. For a small town like Kolhapur, that is a big thing."
Enjoy unlimited digital access with HT Premium
Subscribe Now to continue reading