Samsung UK VP says he didn't give his daughter a smartphone till she turned 11
Feb 04, 2023 04:35 PM IST
Samsung mobile business's vice-president for the United Kingdom and Ireland, James Kitto said, "I personally wouldn't have given her one early." However, children in India are among the youngest to reach mobile maturity and report among the highest exposure to online risks
The smartphone has brought about a significant revolution that has completely altered the way we live, yet not every modernization has produced benefits. Samsung mobile business's vice-president for the United Kingdom and Ireland, James Kitto, says that he did not give his daughter a smartphone until she was 11 years old.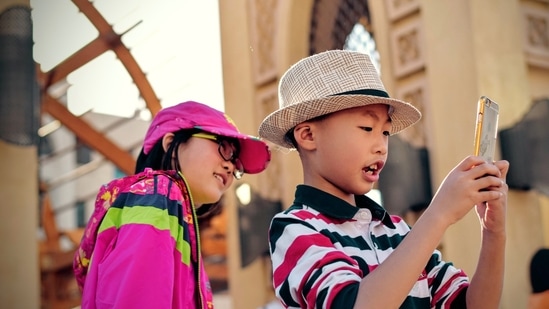 "I personally wouldn't have given her one early, but it is a parental decision as to when you should get your child a phone," Kitto's comment came in a BBC programme. He went to say that what matters most is that everyone using a smartphone, regardless of age, feels secure while surfing and utilising the internet. ALSO READ: T-Mobile data theft: 37 million users' account compromised
Smartphone usage among children in India
Children in India are among the youngest to reach mobile maturity and report among the highest exposure to online risks, points a research from McAfee. According to the report, children in India aged 10 to 14 appear to adopt mobile more quickly than nearly all their peers worldwide. The matter worsens as the study adds that Indian parents normalise heavy mobile usage by children.
About 23.8% of children use smartphones before going to bed, Rajeev Chandrasekhar, Minister of State for Electronics and IT informed Lok Sabha in March last year. This has resulted, he said citing a study, 37.15% children experience loss of concentration. ALSO READ: Cameras, foldables, AI and satellite comms set new outline for smartphones
Harmful impact due to early adoption of smartphone
Because of their younger age of mobile maturity, children in India reported more frequent online haza rds, the McAfee study said. Cyberbullying, attempted online account theft, financial information breaches, and unlawful use of personal data were all more common among teenagers.
ALSO READ: Union budget 2023: Make in India push for mobiles and TVs amidst duty relief
Furthermore, the proclivity for cyberbullying was 5% higher among Indian children than the global average. In comparison to other children around the world, they reported 11% more instances of having private chats without knowing the other person's true identity.
Children as young as nine are exposed to online pornography, a recent UK research highlights. According to the report, a quarter of 16 to 21-year-olds first saw pornography online while still in elementary school. 50% of children have been exposed to it by the age of 13. This is believed to reduce young people's self-esteem and instil negative ideas on sex and relationships.