How would you replace me: Boris Becker, on Djokovic not having found a new coach
The persona of Boris Becker, the man who once won the Wimbledon at the age of 17, still shines through. His carefree swagger, as he walked into a lifestyle store in south Delhi, was a throwback to his big-serving days.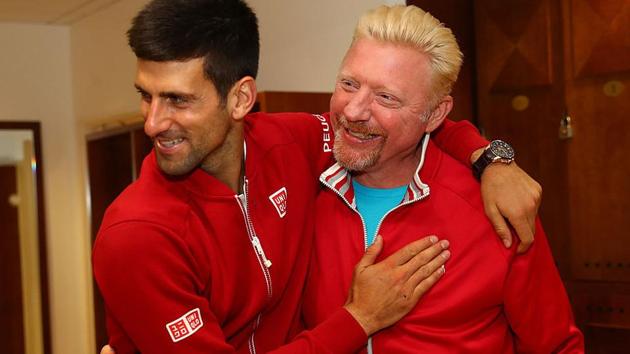 Updated on Dec 16, 2016 11:31 PM IST
Boris Franz Becker quit coaching World No. 2 Novak Djokovic 10 days back. He last played on Tour 17 years ago. He is 49. But Boris Becker can still make heads turn , like he did walking into a lifestyle store in south Delhi that was about half the size of a regular tennis court. Not many can shake the nervous public relations team, the paparazzi, the passive onlooker -- and this writer -- out of their ennui with such overpowering ease.
The persona of the man who won the Wimbledon at the age of 17, still shines through. His carefree swagger -- visible to the lucky few, for Becker was largely shielded by a tattooed hulk -- was a throwback to his big-serving days. His benign smile and quick wit relegate the image of a brooding, hard-nosed coach to the background.
Boris Becker can still do such things to you. He certainly did much more three decades back, when his booming serves and electric volleys flattened the best. He is the man who made diving fashionable, and on Friday, he told us why. "I just didn't want to give up. I was built big and strong, but I was quite slow. So I dived a lot to reach the balls. It did hurt sometimes though, and some of my injuries were due to that," he said.
But then, Becker is not known to mince words. Sample this. On being asked to comment on the split with Novak Djokovic, and his claim that he is not looking for a replacement yet, the German chuckled, "How would you replace me, anyway?" He could well have pulled off a 'Frankly my dear, I don't give a damn', and Clark Gable would have readily approved. "Who is the best player of the current generation?" asked someone with clear lack of imagination. Becker serves thus: "I have to say Novak Djokovic, isn't it?"
Agassi, Lendl and Edberg
In terms of decades that have produced most sporting stars, 1980s has few rivals. Ayrton Senna, Kapil Dev, Jahangir Khan, Carl Lewis, Imran Khan, Stefan Edberg, Ivan Lendl, a raw Andre Agassi, a baby-faced Sachin Tendulkar, and a Boris Becker in full bloom…few could rival that list, and few could blame the kids of the time for junking algebra for athletics.
Read more | Beaten Novak Djokovic gets bitter taste of failure
Why, even Roger Federer, after winning the 2009 Wimbledon final, is believed to have credited the Becker-Edberg rivalry as his inspiration to pick tennis over football. Tennis without Federer? Thank Becker-Edberg for small mercies.
The German also had a legendary rivalry with Ivan Lendl, who finished his career with a 11-10 win-loss record over Becker. Edberg and Becker met 35 times over the course of their illustrious careers, and although Becker holds a 25-10 advantage, the Swede hit him where it hurt most. Edberg won three of their four meetings in Grand Slams, and also defeated him at the World Tour Finals in 1989.
Read more | After split, Boris Becker's sensational disclosure why Djokovic lost No. 1 rank
Becker, however, refused to pick favourites. "Well, they both had different techniques and styles. Each offered a different challenge." There was, however, no diplomacy in hailing Agassi's fashion sense.
"Fashion was different in my days. Shorts were shorter, shirts were tighter. I'd say Andre Agassi was the first player to lend colour to tennis. He wore pink shirts and yellow shorts. A bit of colour is very important in tennis."
"Modern players look very similar. Nobody is trying something new. Among women Serena Williams is very stylish. In fact, she is the most fashionable tennis player in the world right now," he said.
Murray's time
Last month, Andy Murray became the top-ranked tennis player of the world, ending Djokovic's 122-week run at the summit. Becker believes the baton has been passed from Federer-Nadal to Murray-Djokovic.
Read more | World No 1. Andy Murray says his best years can still be ahead of him
"In every era, you will have certain dominant players. This is Murray and Djokovic's time. Some years back, it was the era of Federer and Nadal," he said.
Becker, who joined forces with Djokovic before the 2014 Australian Open, helped the Serb double his Grand Slam tally, besides helping him win his only French Open. That title also helped Djokovic complete a Career Slam.
Looking back at his coaching stint, he said, "We had a wonderful time together. We won virtually everything, but in every coach-player equation, there comes a time when things come to a stop. I have only nice things to say about Novak, and I hope he feels the same for me. It was good while it lasted." Boris Becker still has a knack for quotable quotes.
Close Story