Roger Federer leads Team Europe to maiden Laver Cup title
Updated on Sep 25, 2017 08:31 AM IST
Roger Federer won 4-6, 7-6 (8/6), 11/9 against Nick Kyrgios to give Team Europe an unbeatable 15-9 lead in the Laver Cup on Sunday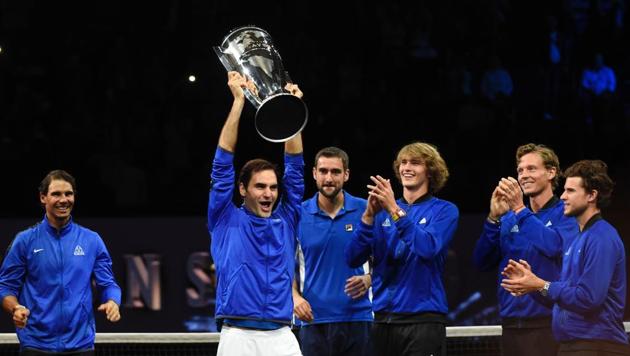 Agence France-Presse, Prague |
Agence France-Presse
World number two Roger Federer handed Team Europe the maiden Laver Cup title after beating Team World's Nick Kyrgios in a super tie-break thriller in Prague on Sunday.
Federer, this year's Australian Open and Wimbledon champion, won 4-6, 7-6 (8/6), 11/9 to give Team Europe an unbeatable 15-9 lead.
But the 36-year-old Swiss legend struggled against the 20th-ranked, 22-year-old Australian and his flawless serve, losing the first set on a single break.
When he finally broke Kyrgios halfway through set two, he yelled "Come on!" in relief, only to lose his serve again in the next game.
READ | Power couple Rafael Nadal, Roger Federer rule out full-time partnership
But Federer capitalised on the system of the tournament he had founded -- forcing Kyrgios into longer exchanges, he edged him in the second-set tie-break, then came back from 8-5 down in the decisive super tie-break.
"I kind of felt good going into the breaker," Federer said.
"It was a nail-biter at the end but for me personally it was a dream scenario."
"It was an incredible journey really, it was way better than I ever thought it would be," he added about the tournament.
"It felt like winning some of the biggest matches in my life. It was like a fairy tale."
READ | Caroline Wozniacki powers to Pan Pacific Open title in Tokyo
Kyrgios said the loss "just hurt."
"I gave everything I had and I came short."
The start of the clash saw the controversial Kyrgios briefly kneel on the court in a gesture which sparked speculation that he was joining the ongoing protest against US President Donald Trump.
But Kyrgios explained this was his trademark gesture to "remember the two most important people that have passed away" -- a reference to his late grandmother and grandfather.
A host of NFL players chose to kneel in games across the US on Sunday during the playing of American national anthem in a demonstration against racial inequality.
'Lucky'
Team Europe, the odds-on favourites with five of the world's top seven players, entered Sunday with a 9-3 lead which narrowed as Jack Sock and John Isner beat Tomas Berdych and Marin Cilic in the opening doubles rubber.
On Sunday, the winner of each rubber earned three points, against one on Friday and two on Saturday.
Alexander Zverev then took Europe within sight of the trophy by beating Sam Querrey in straight sets, but world number one Rafael Nadal missed his chance as he lost to big-serving John Isner in straight sets.
Sock and Isner beat Berdych and Cilic 7-6 (7/5), 7-6 (8/6) with Sock's vicious forehand leading the charge on the American's 25th birthday.
In the day's second rubber, a break in each set was all German youngster Zverev, the world number four, needed to beat 16th-ranked American Querrey 6-4, 6-4 in their first-ever encounter.
READ | Benoit Paire saves match point to see off David Goffin at Moselle Open in Metz
Isner's greatest moment was yet to come as the world number 17 edged Nadal, this year's French and US Open champion.
Nadal lost his serve in game one with a double-fault before Isner's errors helped him draw level in game ten, but Isner broke back at once and finished the set with the help of two second-serve aces in the last game.
He then swept Nadal in the second-set tie-break after both held on to their serves.
"We were lucky to be 9-3 before today," said Nadal. "We are very happy to win the first Laver Cup for Europe. Let's enjoy this moment."
Skippered by Bjorn Borg, Team Europe also comprised Dominic Thiem, while Frances Tiafoe and Denis Shapovalov played for John McEnroe's Team World earlier in the tournament.
The organisers said Sunday Chicago would host the next edition of the Laver Cup on September 21-23, 2018.