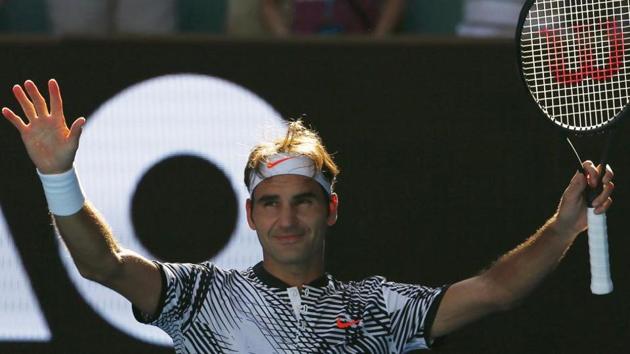 Australian Open 2017 highlights: Roger Federer decimates Tomas Berdych in Rd 3
Roger Federer romped past Tomas Berdych 6-2, 6-4, 6-4 in an Australian Open 2017 men's singles third round match at Melbourne Park on Friday. Catch highlights of Roger Federer vs Tomas Berdych match here
UPDATED ON JAN 20, 2017 05:54 PM IST
Roger Federer got the better of Tomas Berdych in a dominating fashion in the third round of Australian Open on Friday. The 17th seeded Federer was at his best against 10th seed Berdych , winning 6-2, 6-4, 6-4 to enter the fourth round. He will next face the fifth seeded Kei Nishikori. Catch highlights of Roger Federer vs Tomas Berdych match here.
5:37 pm IST: Federer wins! Seals the set 6-4 with a back-hand winner and takes the match
5:35 pm IST: Berdych holds serve but trails Federer 5-4. The Swiss world No. 17 will now serve for the match
5:29 pm IST: Federer is 5-3 up. Berdych clearly staring at defeat now.
5:23 pm IST: Federer goes 4-2 up with a backhand winner. Has Berdych already given up?
5:20 pm IST: Berdych has no answer for Federer's forehands as he trails 2-3
5:12 pm IST: Federer successfully holds serve to lead 2-0
5:11 pm IST: Federer is unstoppable as he breaks Berdych in the first game of the third set. 1-0 up!
5:06 pm IST: And Federer holds serve to win the second set (6-4) too. Goes 2-0 up
4:58 pm IST: The 17th seeded Federer is 5-3 up now. 10th seed Berdych hasn't been able to play his A-game. is it the heat?
4:53 pm IST: Federer is gaining over Berdych in long rallies. Leads Berdych 4-2
4:48 pm IST: Berdych can't Federer, who extends lead to 3-1
4:40 pm IST: Federer gets two breakpoints and goes 1-0 up in the second set. Then holds serve to extend lead to 2-0
4:37 pm IST: Meanwhile, fifth seed Nishikori has entered the fourth round defeating Lacko 6-4, 6-4, 6-4
4:35 pm IST: And Federer wins the first set 6-2, as Berdych commits a forehand forced error.
4:29 pm IST: Federer breaks Berdych yet again with a backhand winner. 5-2 up now
4:22 pm IST: Swiss master has begun the match in the right earnest. Breaks Berdych to go 3-2 up and then holds serve too. Federer 4 - 2 Berdych
4:19 pm IST: Two break-points for Federer in the fifth game
4:15 pm IST: Fedrer holds serve with a forehand to level score at 2-2
4:12 pm IST: Berdych holds serve to go 2-1 ahead with a forehand winner
4:08 pm IST: Action starts as both players hold a serve each.
4:05 pm IST: 10th seeded Berdych and 17th seed Federer are warming up
4:00 pm IST: Can Federer win his 17th match against Berdych?
3:50 pm IST: Barthel has defeated Barty 6-4, 3-6, 6-3 in a Rd 3 match at the Rod Laver Arena. Federer vs Berdych next in the same court
3:35 pm IST: Australian 27th seed Bernard Tomic loses to Daniel Evans in Rd 3. Bad day for the home fans.
3:19 pm IST: Fifth seeded Kei Nishikori has won the first set against Lacko 6-4
3:07 pm IST: In the Rod Laver Arena, Barty has taken the second set against Barthel, which means the match would be decided in the third set. That also ameans that the Federer-Berdych match will happen in another 30-odd minutes.
2:41 pm IST: Meanwhile, Andy Murray made a very honest admission commenting on Novak Djokovic's shock second round loss to Denis Istomin.
2:26 pm IST: Another top player, the fifth seeded Kei Nishikori is about to start his Rd 3 match against Slovakia's Lukas Lacko
2:20 pm IST: Federer vs Berdych match will start at the Rod Laver Arena after a third round game between Ashleigh Barty and Mona Barthel, where the latter has won the first set 6-4.
2:01 pm IST: Meanwhile, players have got a feel of the Australian wildlife too. Watch this sensational video
1:58 pm IST: India had mixed luck today. While Rohan Bopanna is out, Sania Mirza has progressed.
1:53 pm IST: Meanwhile, Saturday's schedule is out. Lot of big guns like Rafael Nadal, Serena Williams will be in action
1:49 pm IST: Lot of interest in the Federer vs Berdych match. Unlike the previous occasions, there is pressure on Federer. But you have to wait a bit for the match to start. Currently, a women's singles third round match between Ashleigh Barty of the US and Mona Barthel of Germany is under way. It's 1-1 in the first set.
13:12 hrs IST: In the last five matches between Federer and Berdych, the swiss maestro has won all five. Most of the matches were on hard courts.
13:04 hrs IST: It is an Ashes contest in the Tennis world as well. Britain's Daniel Evans is up against Australia's Bernard Tomic. We are coming closer to the big clash between Federer and Berdych.
12:50 hrs IST: Venus Williams has made good progress in her third round match against Ying-Ying Duan as she clinches the first set 6-1.
12:24 hrs IST: Stanislas Wawrinka makes it to round 4, beats Viktor Troicki 3-6, 6-2, 6-2, 7-6 (9).
12:20 hrs IST: In the men's section, Andy Murray and Jo Wilfried Tsonga have entered the fourth round, along with Andreas Seppi. Stanislas Wawrinka, though, is struggling.
12:18 hrs IST: Angelique Kerber, the defending champion and top seed, has entered the fourth round with a straight sets 6-0 6-4 victory over Kristyna Pliskova
12:15 hrs IST: It has been an interesting day 5 at the Australian Open. There have not been many surprises, but the big talking point will be this match between Roger Federer and Tomas Berdych.
In terms of statistics, the odds are in favour of Swiss master Roger Federer. The 35-year-old Federer has won 16 of the 22 matches he has played against Czech star Tomas Berdych. That includes the last five meetings between the pair.
Federer has not won a Grand Slam since winning Wimbledon in 2012. There have been concerns about his fitness after knee injury, illness and back problems ruled him out of action for the bulk of 2016.
Federer, who tore the meniscus in his knee at the Australian Open, was forced to have surgery after Wimbledon. He did not play again and dropped to 17th in the world entering this season's opening grand slam in Melbourne.
The last time Roger Federer met Tomas Berdych before the fourth round of a tournament, the Czech was 22 years old and the pair were at the Beijing Olympics.
Since that third-round encounter, which Federer won, they have met 13 times in knockout matches, 11 of which have been in quarter-finals or later.
"I know I've got to lift my game a little bit," Federer said. "The court plays fast and he's caused difficulties for me in the past on faster courts; Cincinnati, New York, Wimbledon, Olympics in Athens.
"I know what he's got," said Federer.
Close