The two sides have been locked for months in a dispute over damaged lightning protection within the painted skin of the A350 that Qatar says has forced it to ground jets and stop taking deliveries.

Here are today's top news, analysis, and opinion. Know all about the latest news and other news updates from Hindustan Times.

Boeing and Airbus CEOs urged the Biden administration to postpone the planned deployment of new 5G wireless services, saying its "interference could adversely affect the ability of aircraft to safely operate."

The C-295s will replace the IAF's fleet of ageing Avro-748 planes that entered service in the early 1960s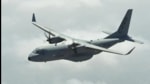 The tariff suspension will last four months to "focus on negotiating a balanced settlement to the disputes", the UK government said in a statement on Thursday.