The article has been authored by Premesha Saha, an associate fellow, Strategic Studies Programme, Observer Research Foundation.

"On a commercial scale, a world all the way to Vietnam and the Philippines, from Haiphong to Hazira and from Manila to Mundra, will open up, creating an east-west lateral with sweeping consequences for the continent," said external affairs minister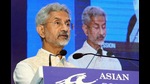 While Russia's invasion of Ukraine is on the agenda, Biden's administration hopes the efforts will show the countries that Washington remains focused on the Indo-Pacific and the long-term challenge of China.

The study has been authored by Harsh Mahaseth is assistant professor at Jindal Global Law School, and senior research analyst at the Nehginpao Kipgen Centre for Southeast Asian Studies, Jindal School of International Affairs. Jetendra Vishwakarma is a student at NALSAR University of Law, Hyderabad

Countries within the Asean region have comparative advantages and strengths that can be leveraged to build greater capacity and resilience to future health threats.