The contentious Act met with nationwide protests over the past few years after it was passed by Parliament on December 11, 2019.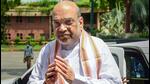 Updated on Aug 03, 2022 05:46 AM IST
The Delhi Police, in its chargesheet, said that the tensions created after the north-east Delhi riots were aggravated after the clashes on Ram Navmi in different parts of the country and led to violence in the city's north-west locality.

Updated on Jul 15, 2022 04:31 AM IST
Sharjeel Imam, through his lawyer Ahmad Ibrahim, has alleged that the assistant superintendent of Tihar Jail along with 8-9 convicts had entered his cell on June 30 in the garb of a search assaulted him and called him a terrorist and anti-national.

Published on Jul 14, 2022 03:31 PM IST
Speaking at a panel on religious freedom in India, the US ambassador at large for international religious freedom Rashad Hussain said the Early Warning Project at the Holocaust Museum designated India as number two among countries at risk of mass killings.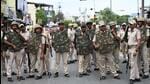 Updated on Jul 01, 2022 02:56 AM IST
Here are today's top news, analysis, and opinion. Know all about the latest news and other news updates from Hindustan Times

Published on Jun 13, 2022 09:01 PM IST