The term of the outgoing President Ram Nath Kovind will expire on July 24 and the new president has to be sworn in by July 25, the poll body further said at a presser.

Written by Shubhangi Gupta | Edited by Aniruddha Dhar
, New Delhi
The decision was taken during a meeting of the poll body on Tuesday under the chairmanship of chief election commissioner Rajiv Kumar. Election commissioner Anup Chandra Pandey also attended the meeting.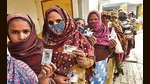 The decision was taken in the first week of CEC Rajiv Kumar taking charge as a measure to observe austerity in personal entitlements, the commission said.

Chief Election Commissoner Sushil Chandra speaks to Deeksha Bharadwaj in a wide-ranging conversation about his year-long stint, reforms, digital campaigning and delimitation
The fear now is that with the delimitation exercise nearing completion, elections will be conducted this year for the newly constituted Union Territories. All contestants – including those already members of the Panchayats — will become fresh targets again