US Congressman Scott Perry, who is a member of House Foreign Affairs Committee, quoted a statement by US Secretary of State Antony Blinken who had accused Pakistan of harbouring members of Taliban, including the terrorists of Haqqani network

The government said India is legally and morally bound to adopt global best practices and respond to the changing needs of the times.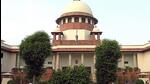 "The FATF affirms recent UN Security Council Resolutions on the situation in Afghanistan. In particular, UNSCR 2593 (2021) demands that Afghan territory not be used to threaten or attack any country or to shelter or train terrorists, or to plan or to finance terrorist acts," the FATF said.

Pakistan continues to remain on 'increased monitoring list'. The increased monitoring list is also known as 'grey list'
Written by Shankhyaneel Sarkar | Edited by Poulomi Ghosh
, Hindustan Times, New Delhi
The decision was announced at the end of the multilateral watchdog's five-day virtual plenary meeting under the German presidency of Marcus Pleyer.