Latest from gujarat police
Overcrowding and negligence on part of those responsible for handling the bridge have so far emerged as primary concerns for the mishap. Between 400 and 500 people were on the bridge at the time of the accident, which was thrice its capacity.


Updated on Nov 01, 2022 01:13 PM IST
Kapadvanj deputy superintendent of police VM Solanki on Thursday was directed to hold a detailed probe and submit a report on the purported incident that took place on October 3, the official said on condition of anonymity.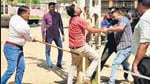 Updated on Oct 07, 2022 04:58 AM IST
The accident took place in Bhabru area of Jaipur near Nijhar Mor on the national highway connecting Delhi, police said.


Published on Feb 15, 2022 01:28 PM IST