Inaugurating a two-day celebration at the Red Fort to mark the 400th birth anniversary of the Sikh Guru, Union home minister Amit Shah said he gave his life for the protection of Kashmiri Pandits and other Hindus who were persecuted by the then Mughal rulers.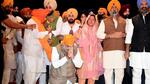 Persons involved in some serious crimes will not be eligible for special remission.

Reports on the 1951 Census were issued in 17 volumes, which were divided into 63 parts

Kangana Ranaut, in an Instagram post, said that not holding the British accountable for their 'countless crimes', including plundering India's wealth, was disrespectful to the freedom fighters.