Latest from indian currency
Nirmala Sitharaman, who is on a three-day visit to Pune in Maharashtra, asked a reporter to study how currencies, other than the Rupee, are performing against the dollar in the latest round of depreciation.


Updated on Sep 24, 2022 11:06 PM IST
Any currency depreciation may trigger two opposite effects on the domestic economy - an inflationary impact which occurs through an increase in the cost of importable goods, and a positive impact on the economy if it makes exports cheaper in global markets and imports costlier in domestic market.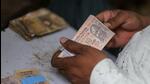 Updated on Aug 09, 2022 01:42 PM IST
The rupee slid to 73.6 per dollar on Wednesday to become the worst performing Asian currency, which had stayed relatively stable earlier in the absence of new virus cases in the country.

Updated on Mar 04, 2020 01:59 PM IST
Bloomberg |
By
Kartik Goyal
According to Hugo Erken of Raobank, the rupee could weaken less than 1% over the next 12 months, while Indonesia's rupiah may fall 7%, Thai baht 11% and the Malaysian ringgit 9%.

Updated on Jan 10, 2020 10:13 AM IST
At the interbank foreign exchange, the rupee opened at 71.06 on Friday, showing a decline of 4 paise over its previous closing.

Updated on Oct 25, 2019 10:19 AM IST
Mumbai |
By
Press Trust of India