Latest from michelle bachelet
In the past, India has described such criticism as interference in the country's internal matters based on inadequate understanding of the ground situation.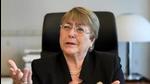 Updated on Sep 14, 2021 01:34 AM IST
Michelle Bachelet said she has received reports of serious violations of international humanitarian law which include summary executions of civilians and restrictions on the rights of women.


Published on Aug 24, 2021 03:57 PM IST
Michelle Bachelet said her office had verified the deaths of 270 Palestinians in Gaza, the West Bank and East Jerusalem, including 68 children, during violence this month.

Published on May 27, 2021 04:15 PM IST
Bachelet said on Friday that she hoped to clinch agreement with Chinese officials about a visit to the country. Louise Arbour was the last UN High Commissioner for Human Rights to visit China, in September 2005.

Published on Mar 02, 2021 05:00 PM IST