On December 12 last year, the Jharkhand assembly passed the "Prevention of Mob Violence and Mob Lynching Bill, 2021" during the winter session.
More than 60 people suspected of involvement in the lynching have been arrested, a government spokesperson informed.

On Tuesday, Sanju Pradhan, in his 30s, was lynched and set on fire by a mob on suspicion of his involvement in illegal felling of trees and trading in stolen wood.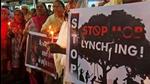 With the passage of the bill, Jharkhand became the third state after West Bengal and Rajasthan to have put in place such a law.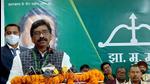 Niraj Das, alias Kola Lora, was among 13 people arrested by police in connection with the death of AASU office bearer Animesh Bhuyan.