The data available after a large-scale, multi-round survey conducted carried out by the Ministry of Health and Family Welfare presents a huge disparity. It suggests that fewer than 8% of households have a car.

Updated on Dec 27, 2022 07:44 PM IST
An HT analysis of unit level data from the National Family and Health Survey (NFHS) shows that the economic pain in labour markets did not decrease enough with the removal of lockdown restrictions.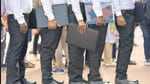 Updated on May 27, 2022 01:24 PM IST
India's TFR fell from 2.2 in NFHS-4 to 2 in NFHS-5 – means that a country's population will not grow in the long-term.

Updated on May 26, 2022 11:44 AM IST
In the first of a five-part data journalism series based on National Family and Health Survey (NFHS) data, HT's data and political economy team finds that India's inequality problem is far sharper than what is made out by the data

Updated on May 24, 2022 03:16 PM IST
According to the NFHS, 69.3 per cent of households have access to improved toilet facilities - or those that are not shared. 8.4 per cent of households have access to shared toilet facilities and 2.9 per cent have access to unimproved facilities.


Published on May 11, 2022 05:45 PM IST
Written by Sharangee Dutta | Edited by Chandrashekar Srinivasan
, New Delhi
India has made significant progress in population control measures in recent times with the TFR, but there are wide inter-regional variations with five states still not having achieved a replacement level of fertility of 2.1.


Updated on May 11, 2022 12:31 AM IST
Deutsche Welle |
HT News Desk
| Written by Aniruddha Dhar
, New Delhi
Data from the NFHS-5 showed that more than 75% women respondents across three states justified men beating their wives in - Telangana (84%), Andhra Pradesh (84%) and Karnataka (77%).

Published on Nov 28, 2021 04:19 PM IST
Written by Shankhyaneel Sarkar | Edited by Poulomi Ghosh
, Hindustan Times, New Delhi
More than 70% of women in every state and Union territory surveyed in the second phase have operational bank accounts, the NFHS survey said.

Updated on Nov 25, 2021 04:49 AM IST