Latest from rio de janeiro
Infraero, the country's aviation authority, said it suspects screens at the Santos Dumont Airport were hacked, adding that it had notified the Federal Police.


Published on May 28, 2022 08:14 PM IST
The downpours, which on Tuesday alone exceeded the average for the entire month of February, caused mudslides that buried homes, flooded streets, washed away cars and buses and left gashes hundreds of yards wide on the region's mountainsides.


Published on Feb 17, 2022 06:36 PM IST
According to Neiva Guedes, president of the Hyacinth Macaw Institute, an environmental group, Juliet hasn't coupled, built a nest or had chicks, so at most she's "still just dating."


Published on May 10, 2021 01:19 PM IST
Suspects tried to escape across rooftops as police entered the slum in armored vehicles and helicopters flew overhead, television images showed.


Published on May 06, 2021 10:37 PM IST
The two neighbouring countries in South America, Brazil and Argentina, are taking very different steps at the moment. While Buenos Aires is embracing the nightlife again, Sao Paulo and Rio de Janeiro have announced tighter restrictions.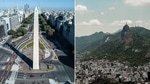 Updated on Mar 07, 2021 08:03 AM IST
Rio de Janeiro's new mayor Eduardo Paes recently said that it won't be possible to host the famous carnival, which was originally scheduled to take place next month, even in July due to second wave of coronavirus infections.

Published on Jan 22, 2021 09:09 AM IST
Reuters |
, Rio De Janeiro