Philippines' Boracay Island reopens, but don't expect any beach parties
Updated on Oct 27, 2018 01:59 PM IST
Philippines' famed Boracay Island reopened on Friday after a six-month shutdown. If you plan to visit, don't expect any late-night parties, water sports, or drinking and smoking on the beach.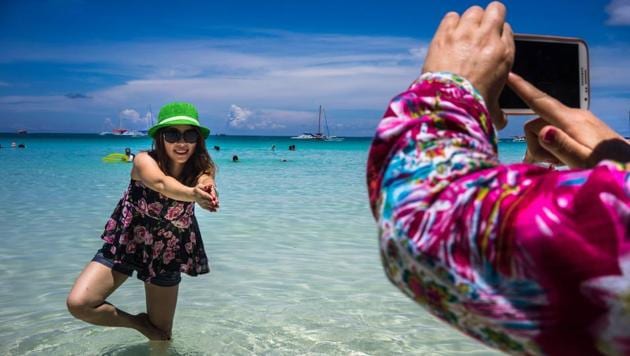 Bloomberg |
Cecilia Yap and Andreo Calonzo, Bloomberg
Say goodbye to beach parties and water sports when the white-sand resort of Boracay Island in the central Philippines reopens to tourists on Friday after a six-month shutdown.
"Our guests can expect a better Boracay when it comes to maintaining a high environmental standard," Tourism Secretary Berna Romulo-Puyat said via Facebook messenger. Please manage your expectations, she added in a word of advice to tourists expecting the same Boracay.
Drinking and smoking in public places will be banned, along with the late-night parties that have made the island one of Asia's top tourism destinations.
Jet skis and other water sports will be banned until further notice, and sand castle making will be regulated, according to a Twitter advisory by Cebu Air Inc. Confirmed bookings with accredited hotels will be required before being allowed entry to the island.
The number of visitors will be capped at 6,405 arrivals per day while only 19,000 tourists will be allowed on the island at any given time, Environment Secretary Roy Cimatu said.
At a televised briefing on Thursday, Cimatu said civilians accompanied by police officers would be deployed along the beach to ensure that tourists were complying with environmental guidelines.
"We will be monitoring those littering on the beach, and there will be corresponding penalties. We will really implement ordinances and laws on the environment," he said.
Thailand, which attracts five times more travellers than the Philippines, is also trying to ease congestion at popular beach destinations. President Rodrigo Duterte earlier this year called Boracay a cesspool and ordered its closing on April 26 so the island could be mend.
Heal it did, but much still needs to be done, Romulo-Puyat said, including building wider roads in the main town, so the ecological recovery will be sustained.
"We are doing this to preserve the natural beauty of Boracay," Romulo-Puyat said. "The island is a model of sustainable tourism in the country and we hope that this will inspire those in-charge of other attractions in the Philippines."
In a speech on Wednesday, Duterte said he doesn't want to see more casinos and hotels on Boracay, adding that he would rather let the locals own the land. "Even if all these rich investors will pour their money there, Boracay can only carry so much," he said.