Cat and dog make up after chasing each other to their hearts' content. Video is cute to watch
Published on Jun 07, 2022 10:49 AM IST
The video of the cat and dog hanging out after chasing each other all day long was posted on Reddit.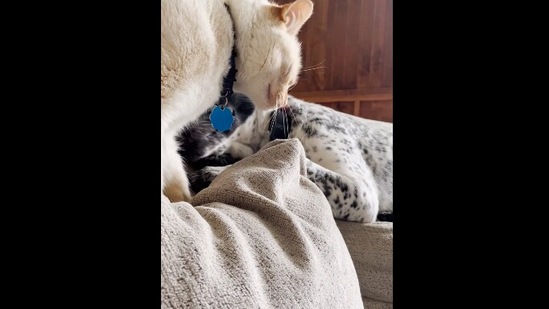 Are you looking for a pet video to make your day brighter? Then here is a clip of a dog and a cat that may be what the doctor ordered. This is a clip that shows the adorable creatures making up after chasing each other to their hearts' content. There is a chance that the video will also make you giggle besides making you say aww.
The video was posted on Reddit. It was shared with a descriptive caption that adds context to the clip. "After chasing each other all the time, they make up," it reads. The video opens to show a cat and a dog sitting next to each other. Throughout the video they are seen being really sweet with each other.
Take a look at the video:
The video has been posted a day ago. Since being shared, the clip has gathered over 18,000 reactions and counting. The post has also prompted people to share various comments.
"Listen here, snarky. I know we have our differences on the field but that doesn't mean we have to stop cleaning each other," joked a Reddit user imaging the thoughts of one of the pets. "Aww they love each other. Grooming equals love and kitty wants her ears clean," shared another. "Their lovely little faces are so wholesome," expressed a third. "My birds do this kind of stuff all the time. Fight, get bonked on the head, look all sad, but then help each other fix the feathers they can't reach," commented a fourth indicating that they are pet parents.
What are your thought on the video?
Topics
Personalise your news feed. Follow trending topics