Magician's magic trick in washroom leaves man beside him perplexed. Watch
Published on Aug 25, 2022 07:20 PM IST
A viral video posted on Instagram shows a magician doing magic in washroom as the person next to him is left confused.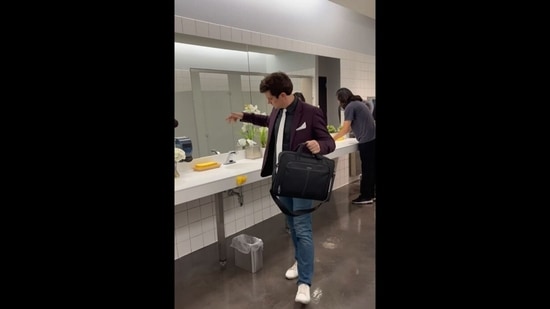 Does the word 'abracadabra' still remind you of a magician with a wand and a deck of cards? However, some magicians don't need to carry those things with them everywhere to trick others. And one such magician is this man going viral due to his unusual style. A video shared on Instagram shows the man pulling a magic trick in a washroom in front of another man standing beside him.
The video was shared by an Instagram user named Xavier Mortimer, who is a professional magician from the US. The magician shared the video with the caption,"Verified Wizard using public bathroom." It opens to show Mortimer pulling out a long strip of white tape and converting it into a white tie. Soon after the impromptu performance, the magician goes out of the washroom leaving the other man confused and contemplating.
Watch the video here:
The viral video was shared on July 25 and it amassed more than nine million views. The video stunned the netizens as several users were impressed with the magician. At the same time, it also left many Instagram users in splits owing to the man's reaction to the magic.
After posting the video, Mortimer himself posted a couple of comments. He wittily wrote, "If someone goes there can you get my magic tape back thanks." He added, "Guy was flabbergasted." One of the Instagram users wrote, "From that moment he knew, he saw it all. Witchcraft in broad daylight." "That was the best day of that other guy's life!" wrote another.
Topics
Personalise your news feed. Follow trending topics