Man visits Antwerp to buy ring for partner, learns dance number to propose
Jan 28, 2023 04:20 PM IST
An adorable video shows a man visiting Antwerp to find the perfect ring for his girlfriend. This video has gone viral online. Watch the full clip inside.
Proposing to one's partner is a special occasion that people love to execute in the most beautiful way possible. Due to this reason, some go above and beyond to make every little detail perfect. Just like this man whose proposal video has gone viral on social media. It shows how he went to Antwerp to get a ring for his partner. There are chances that this video will put a bright smile on your face.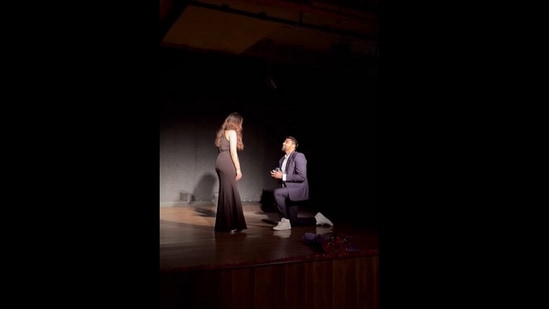 Divyadeep Bhatnagar shared a video on Instagram where he said he wanted to do something special for his girlfriend. So, the man flew to Antwerp, the world's diamond capital, to buy a ring. Once he reached there, he researched and purchased a ring after seeing some options. Finally, when he returns home, he gathers his friends and family to make a big proposal. Bhatnagar books an auditorium and prepares a dance number with his friends before surprising his girlfriend.
Take a look at the adorable video here:
This video was shared a few weeks ago. Since being uploaded, it has been liked by 24,000 people and received several comments.
Take a look at some of the reactions below:
One person in the Instagram comments section said, "Congratulations to both of you." A second person added, "Beautiful. Congratulations to both of you. I am so happy for you guys. Stay blessed." "God bless both of you," said a third.