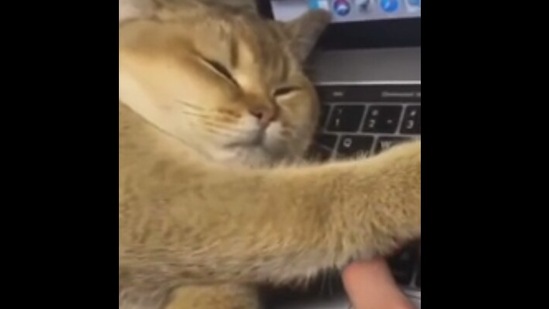 Sleepy cat requests human to stop working. Clip may make you smile
"Human, human, human.... shhhh... I'm trying to sleep," commented a Reddit user.
By Srimoyee Chowdhury
PUBLISHED ON JUL 29, 2021 10:31 PM IST
Remember the stern cat that refused to get pets from its human while they were working? Well this Reddit video of a sleepy cat is totally the opposite of it. The video shows the cat requesting its human to stop working in the most adorable way.
The recording starts with a person typing something on their laptop. A few seconds into the clip a fluffy paw enters the frame to stop the person from typing. The camera then pans out to show a sleepy cat lying on the laptop and refraining the human from working.
Take a look at the video:
Shared some five hours ago, the clip has garnered over 18,200 upvotes and tons of reactions. While some couldn't stop swooning at the adorable and lazy cat's cuteness, others wished to get a cat like it only. Many simply shared heart emojis.
One individual wrote a cute poem about the clip. "Now I lay me down for naps, please, human - stop them finger taps . . .I rest my paw upon your hand, am hoping that you understand. My weary head upon your keys, some quiet rest is what I please." It read.
"Human, human, human.... shhhh... I'm trying to sleep," commented another. "Stop that noise and let the petting begin," said a third.
What do you think of this sweet video?
Topics
Close