Tiny puppy falls asleep in its food bowl while eating. Watch
Published on Aug 25, 2021 10:28 AM IST
There is a chance that the super sweet video will make you say 'aww.'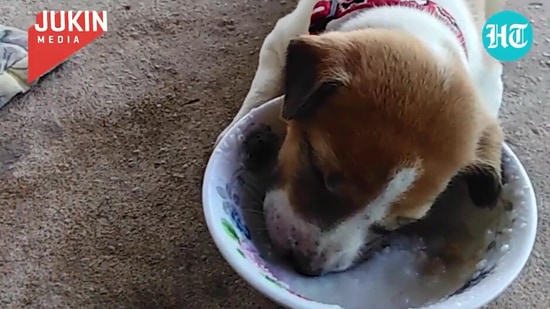 Cute animal videos are always fun to watch. They are also those that can uplift someone's mood almost instantly. The Internet is a treasure trove when it comes to such clips. This video of a tiny puppy being tired after eating a lot is just the type of fun video that you need to start your day with.
The video shot in Thailand shows a puppy lying on the floor. The little one's head can be seen resting inside its food bowl. The adorable canine peacefully sleeps as a person films its cute little snores. The video is bound to make your heart fill up with a warm fuzzy feeling. So, if you're suffering from mid-week blues and want to have a light moment then this video is a must watch for you.
Check out the super adorable video:
Did the little puppy's nap-time leave you saying 'aww'?