Video of panda playing in the snow will instantly cheer you up. Watch
Published on Nov 28, 2022 07:44 AM IST
The viral video that showcases a panda playing in the snow is bound to soothe all your stresses away.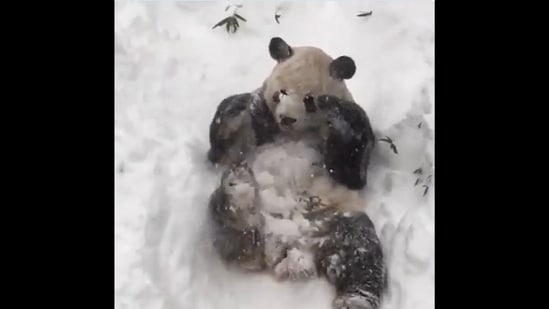 An old video of a panda enjoying in the snow is going increasingly viral across social media platforms owing to its sheer cuteness quotient and is bound to soothe all your stresses away. The video opens to show the panda sliding and rolling in the snow, and it continues frolicking around in the snow till the end of the clip.
"They can't survive in the wild...," read the caption of the video reshared on the Twitter handle @buitengebieden. The video was originally posted on Twitter by Smithsonian's National Zoo and Conservation Biology Institute in 2016 with the caption, "Tian Tian woke up this morning to a lot of snow, and he was pretty excited about it."
Watch the viral video below:
The video was shared two days ago on Twitter, and it has so far garnered more than 31.5 million views, and the numbers are still increasing. The share has also gathered lakhs of likes and numerous comments and retweets.
"My thoughts too. They must be the happiest creatures on Earth. My dream job would be to work as a Panda nanny," posted an individual. "That's someone trapped in a hyper realistic panda costume," joked another. "OMG so cute I wanna hug him right now….just adorable," expressed a third with heart emoticons. "Too much fun I would love to join him," shared a fourth.