Video of Ukrainian soldiers rescuing dog from deep pit goes viral. Netizens thank them
Published on Nov 23, 2022 03:46 PM IST
The moving video that shows Ukrainian soldiers rescuing a dog from a very deep pit was shared on Twitter.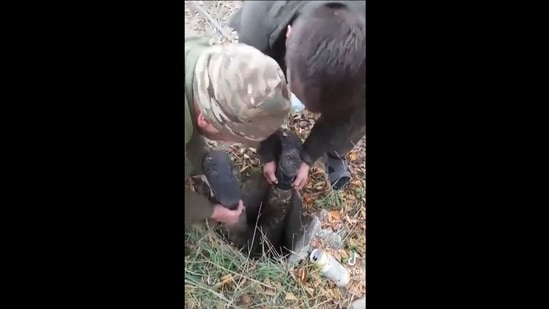 The Internet is a pool of heartwarming videos that capture people rescuing animals. And such videos, more often than not, curl up our lips in a smile. Just like this video that has recently surfaced online. The moving clip shows three Ukrainian soldiers rescuing a dog that had fallen inside a very deep pit.
The video was posted on Twitter by a Ukrainian official Anton Gerashchenko and is credited to a TikTok user who uses the handle @pavyk9525. "Our Defenders rescued a doggie," read the caption of the video shared on Twitter. In it, one can see a Ukrainian soldier going inside a pit while others hold his legs and carefully dangle him in it. A few seconds later, they can be seen pulling him back, who came up with a small dog that had fallen inside the pit.
Watch the video below:
Since being shared five days ago on Twitter, the tweet has gathered more than 52,100 views. It has also collected over 5,800 likes and close to 700 retweets.
"I can't thank these amazing Defenders enough. Poor little puppy must have been so terrified. Fantastic to see once again that every life matters to Ukrainians," expressed an individual with a heart emoticon. "Ukrainians show themselves to be profoundly decent people again and again," commented another. "These are mensch. Ferocious in battle and compassionate away from the front lines. What a country," posted a third. "Heart warming," wrote a fourth.
Personalise your news feed. Follow trending topics