Indian mom-daughter duo made rangoli from 26,000 ice cream-sticks, enters Singapore Book of Records
Jan 27, 2023 04:32 PM IST
Indian mother-daughter duo's 26,000 ice cream-stick rangoli enters Singapore Book of Records. The rangolis represents Tamil scholar-poets.
Singapore, Jan 27 (PTI): Rangoli artwork is known to be intricate and can take a lot of time for a person to complete it. Now, an Indian mother and daughter team has made it to the Singapore Book of Records by creating a 6-by-6 metre rangoli artwork using 26,000 ice cream sticks that depicts notable Tamil scholar-poets.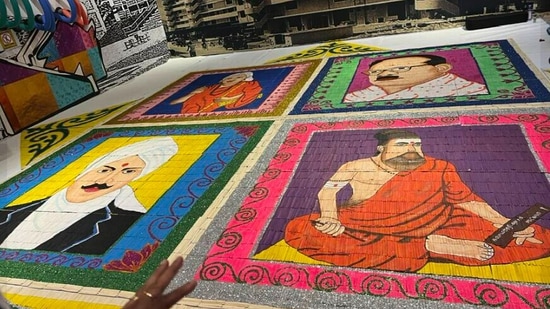 Sudha Ravi, along with her daughter Rakshita, presented the rangoli last week during a cultural event planned as part of the ongoing Pongal celebrations in the Little India neighbourhood. Sudha Ravi is also listed in the record book for creating a 3,200 sq ft rangoli in 2016.
The rangoli took a month to make. It honours famous Tamil scholar-poets such as Tiruvalluvar, Avvaiyaar, Bharathiyaar, and Bharathidasan. It coincides with the celebration of their works by Kalamanjari, a Tamil cultural organisation, that created the event, and the Little India Shopkeepers and Heritage Association (LISHA).
The Friday weekly Tabla! reported that violin and mridangam artists regaled the audiences with Carnatic music and songs lauding the works of the poets in the event on January 21.
"Kalamanjari and team did a vocal performance on the songs of these scholars," said Soundara Nayaki Vairavan, the founder of Kalamanjari, which promotes Tamil literary works through music and dance.
Soundara Nayaki Vairavan also shared a few pictures from the event on social media. In the post's caption, she added, "Kalamanjari had a very humble beginning in November 2018, when it was started. After four years of incredible journey now, it has found a place in the 'Singapore Book of Records.' Thanks to LISHA for including it in their Pongal calendar 2023. This record is mainly due to the tireless efforts of Sudha and Rakshita. Also, Thanks to the Kalamanjari team for standing by me always."
Take a look at the post here:
Ravi, a rangoli expert who actively promotes Tamil culture, usually creates rangoli using rice flour, chalk, and chopsticks, but this time she used acrylic paint on ice cream sticks. She is also well-known in Singapore for creating rangolis at community centres, which has attracted the admiration of non-Indians.
"Sudha and her daughter are part of the Tamil cultural activities in Singapore, and this is an assurance that the younger generation will continue to lift our traditions," said Vairavan, also a stalwart of Tamil language and culture.
Rajini Asokan, who runs a food and beverage business, was in awe of the rangoli. She said it was an outstanding highlight of the event and made her even prouder of Indian culture.
Kalamanjari organised the event, supported by LISHA, as a part of 'LISHA Pongal Festival 2023'.