Woman shares video about altercation with delivery man, Zomato replies
Zomato shared an apology over the incident and promised necessary action.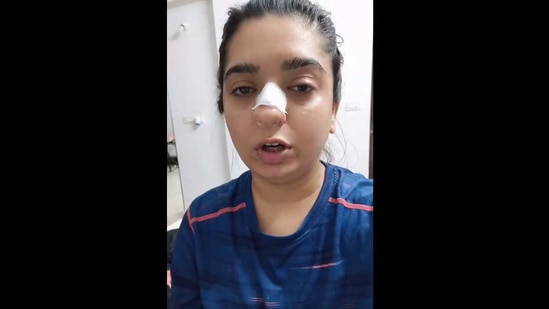 Published on Mar 10, 2021 07:18 PM IST
Hitesha Chandranee, a makeup artist and influencer hailing from Karnataka, shared a video online claiming that a Zomato delivery executive hit her and ran away after they had an argument over the delivery time of the food she had ordered through the app. Taking to Instagram, Chandranee shared the video detailing her ordeal. She also shared a shorter version of the same clip on Twitter. Zomato has since shared an apology over the incident and promised necessary action.
In the video, Chandranee says that she was on a call with Zomato's customer support, asking them to refund or waive off the charges of the food since the delivery was late. When the delivery executive reached her place, she asked him to wait. She added that the delivery executive got angry, abused her and hit her on the face before running away. The assault, she added, left her with a broken nose.
Take a look at the detailed video in which she explains the incident:
Following her video, Zomato tweeted an apology and also added that they will cooperate in the police investigation of the incident.
"Hey Hitesha, thank you for speaking to us, we can assure you this is not the experience our delivery universe stands for. Our local representative shall be in touch with you shortly to help you with the police investigation. Along with assistance on the medical care required. We can't emphasise how sorry we are, rest assured we'll take necessary actions to prevent such incidents from happening in the future," they wrote.
Bengaluru city police also replied on Chandranee's tweet asking her to provide the details of the area where the incident took place.
Chandranee's video has received several reactions on social media. Through their comments, people have condemned the incident.
Chandranee registered a complaint with Bengaluru's electronic police station and on the basis of that the executive was taken into custody. According to an electronic city police station official, the delivery executive shared a different version of the incident. "According to him, he wanted to hand over the food and get on with another delivery. The woman demanded a refund, which was beyond his capacity. As she refused to accept the order, there was a verbal altercation. When she tried to hit him with her sandals, he pushed her in self-defence, which resulted in the injury," they said.
Close Story
Personalise your news feed. Follow trending topics