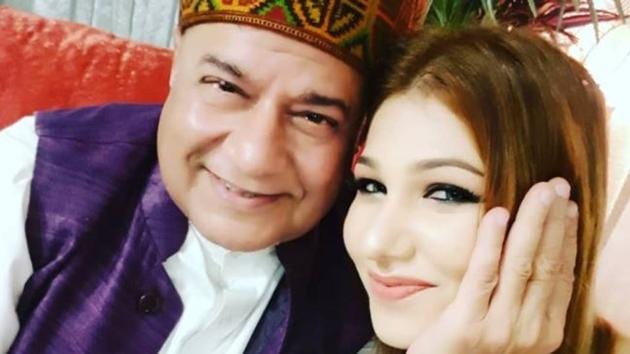 Bigg Boss 12: Jasleen Matharu reveals she's dating Anup Jalota, says it'll shock her parents too
Anup Jalota and Jasleen Matharu are entering Bigg Boss 12 house as a 'vichitra jodi'. Jalota had earlier dismissed claims that he is dating Matharu.
UPDATED ON SEP 16, 2018 07:28 PM IST
Devotional singer Anup Jalota and Jasleen Matharu are entering Salman Khan's Bigg Boss 12 house as a 'vichitra jodi'. While speculation said that the two were dating, the 65-year-old bhajan singer had refuted the claims in an interview.
However, Jasleen has now accepted that she is dating Anup for the last three years and Bigg Boss 12 will allow them to spend time together, in an interview to Times of India. "This is going to come as a huge shock to my parents and friends as no one is aware of my relationship with Anup Jalota ji. We have been dating each other for the last three and a half years. We usually don't get time to spend with each other in the outside world due to our busy schedules, but now with the help of Bigg Boss, we will get to do so. Also, we will get to know if we can stay together forever," Jasleen said.
Their photos together had gone viral recently. Did the comments about their age gap affect her? "Age gap has never bothered us and now once we go inside the house, we will get to know the real reaction of the people about our relationship. Until now, nobody knew anything," Jasleen said.
When asked how the two will conduct themselves on Bigg Boss 12, Jasleen said, "I won't hold back myself in showing proximity with Anup ji if I am feeling low. I don't think there is anything wrong in hugging someone."
Earlier, speaking to PTI, Anup Jalota had said that his spirituality will hold him in good stead inside the Bigg Boss house. "Everyone is not same. There are problems in a family, these things do happen. I am so much involved in spiritual and classical music... I don't have anger left in my life. I love music, I love to sing. It will be interesting to see how it is going to be inside the house," Jalota had told PTI.
"When people would fight I will try to give solution. It is essential to understand that we often get angry because of someone else. I believe solving problem is important," he adds.
The singer says he will continue following his daily routine during his stay in the house. "I will do my riyaz, yoga, walk on the treadmill and I am glad that they have provided me with the facilities."

Close