Bigg Boss 12 Weekend Ka Vaar highlights: Salman Khan to welcome Team Simmba in the house
Bigg Boss season 12's last Weekend ka Vaar could not have been more exciting as Ranveer Singh, Sara Ali Khan and Rohit Shetty came to meet the Salman Khan and the remaining seven contestants of the Bigg Boss house.Salman Khan, Rohit Shetty and Sara Ali Khan asked random questions to Ranveer, and he mirrored Karan throughout the round. In one instance, he even danced to Karan Johar's favourite song 'Radha Teri Chunri.' Ranveer's hysterical performance left everyone beaming with laughter. Later, they proceeded to meet the contestants inside the house.Catch all highlights from the episode here: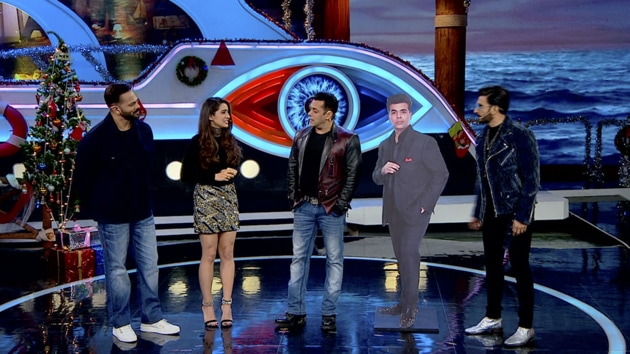 Updated on Dec 22, 2018 10:21 PM IST
10:10 PM IST
Sara, Ranveer and Rohit enter the house
Sara and Ranveer divide the contestants into two teams for a dance off.
9:55 PM IST
Salman plays games with Team Simmba
Ranveer burns Karan and himself in a game. He even dances like Karan to Radha Teri Chunri.
9:50 PM IST
Ranveer, Sara, Rohit meet Salman on stage
Simmba stars Ranveer Singh and Sara Ali meet Salman Khan with their director Rohit Shetty. Salman congratulated Ranveer on his wedding with Deepika Padukone.
9:45 PM IST
Salman postpones evictions for Sunday
Salman says he is not in the mood for evictions as he is feeling the spirit of Christmas. The evicted contestant will be announced on Sunday.
9:40 PM IST
Salman asks contestants to name the villain of the house
Contestants choose Surbhi as the villain and she gets sent to the torture chamber. Even Romil voted for her as the villain.
9: 35 PM IST
Caller of the week asks Sreesanth a question
A viewer asked Sreesanth why looks down upon acting as a profession. He said he makes fun of how Karanvir acts inside the house but not about his profession. this was followed by another heated debate between him and Karanvir.
9:30 PM IST
Salman tells consider to reconsider the rankings
Salman tells contestants to reconsider the rankings. Surbhi pushes Dipika from last to first position.
.@BeingSalmanKhan kar rahe hain gharwalon se pooch taach ranking wale task ko lekar. Dekhiye yeh saara tamasha abhi! #BB12 #BiggBoss12 #WeekendKaVaar pic.twitter.com/ZsRp1C3EF9

— COLORS (@ColorsTV) December 22, 2018
9:25 PM IST
Contestants praise Surbhi
Salman Khan and other contestants praised Surbhi for her performance in the latest task and also for learning to control her temper.
9:20 PM IST
Salman says the contestants didn't use common sense
Salman says the contestants should have put more focus on choosing the person for the first rank rather than the last.
9:15 PM IST
Salman teases Karanvir
Salman teaser Karanvir for taking too long to get ready and says the girls across the country are fans of his eyelashes.
9:10 PM IST
Surbhi says she feels sorry for Dipika
Surbhi says she feels sorry for Dipika as she thinks she always has to cater to Sreesanth.
9:05 PM IST
Housemates asked to rank themselves
The housemates were asked to rank themselves on the scale of 1 to 7. After a lot of tussle, they decided on the ranks. Deepak was given first rank while Dipika was at rank 7.
Close Story