Game of Thrones fans can't believe who won the throne: 'Even Joffrey is better,' says Twitter
Updated on May 20, 2019 03:04 PM IST
Game of Thrones series finale has drawn mixed reactions from fans, who have complained about who finally got to sit on the Throne, but also appreciated the conclusions of Sansa Stark and Jon Snow.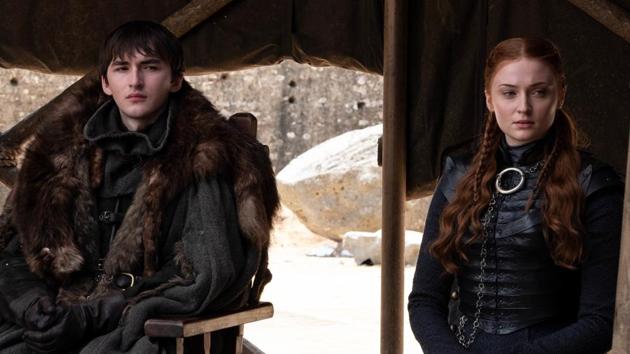 The much awaited series finale of Game of Thrones has received mixed reactions from fans, who appreciated (SPOILER ALERT) Sansa Stark's arc, but expressed disappointment at Bran Stark being crowned king. Fans also lamented the conclusion of Daenerys Targaryen's epic journey, but praised Jon Snow's reunion with his direwolf, Ghost.
The episode has received mixed reviews from critics, and has a mediocre 57% score on review aggregator Rotten Tomatoes. Season eight is the worst reviewed of the show's run, and has several of the worst reviewed episodes, including last week's The Bells, which has the lowest RT score (48%) of any GoT episode.
Titled The Iron Throne, the finale finds all the main characters at a crossroads. Daenerys' transformation into the mad queen is complete and Tyrion convinces Jon to assassinate her. He completes the mission, but is soon apprehended by the still loyal Unsullied, along with Tyrion. At his trial, Tyrion suggests that Westeros move on from its violent past, and forge a new journey with a new king. He chooses Bran Stark, and the gathered lords and ladies agree.
Also read: Game of Thrones finale review The Iron Throne: A disappointing end as all prophecies, secrets, plotlines are set on fire
Predictions ahead of the finale suggested that either Jon or Sansa would sit on the Iron Throne. Bran being crowned king came as a surprise to most fans (but not Bran apparently), who took to social media to react to the plot development with memes. "Even I am better than Bran," wrote one disgruntled fan, alongside a picture of the villainous Joffrey. Reacting to Tyrion's claims that 'Bran has the best story', one fan wrote, in all-caps, "ARYA, WHO LEARNED SHAPE-SHIFTING AND MURDERED THE INVINCIBLE ICE KING OF DEATH: Bran has what now?" "Bran is worse than the Night King," one fan complained, adding "Give me my eight years back."
See more reactions to Game of Thrones Season 6 Episode 8:
Others, however, appreciated that Sansa fought for independence, and was crowned Lady in the North. "Sansa won the popular vote but Bran had the electoral college," one fan joked. One fan shared images of everyone who had abused Sansa in the past, and noted the catharsis of her victory. "Sansa's coronation was literally one of the most beautiful scenes and i will never shut up about it," wrote another fan. See more reactions here:
Game of Thrones concluded its historic run on Monday with its most divisive season yet, with most of the criticism being directed at showrunners David Benioff and Dan Weiss, who have been accused of rushing the plot and deviating from original author George RR Martin's intended story.
Follow @htshowbiz for more
Personalise your news feed. Follow trending topics