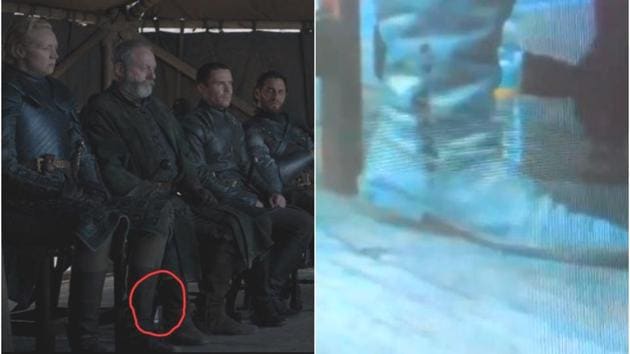 Game of Thrones fans spot stray water bottles in final episode, can't believe it happened again: 'Even lords need to stay hydrated'
Poor writing and unsatisfactory character arcs aside, Game of Thrones' final season is being done in by trash. Fans have spotted stray water bottles in couple of shots in the series finale.
UPDATED ON MAY 20, 2019 01:37 PM IST
Many Game of Thrones fans have described the final season of the hit HBO show as being trash, but not because of the actual trash that keeps making appearances on screen. After a stray Starbucks cup was spotted in an earlier episode, eagle-eyed Game of Thrones fans have spotted plastic water bottles in a couple of different shots in the series finale, The Iron Throne.
The water bottles appear in one scene in particular, when Tyrion Lannister seemingly escapes death after the concept of democracy is invented, much to the amusement of the gathered lords and ladies. One of them, Samwell Tarly, appears to have put his water bottle beside his chair. It appears around the 46 minute mark in the episode, which aired to mixed response on Monday morning in India.
The second water bottle can be seen under Liam Cunningham's chair a couple of minutes later. Cunningham plays Ser Davos in the fantasy show.
Several fans took to Twitter to express disbelief at the fact that HBO could make this sort of mistake again, especially after all the negative attention the Starbucks cup generated. "LMAOOO I CAN'T BREATHE THEY DID IT AGAIN. First Starbucks now a water bottle this show is a joke," one person wrote, alongside a conveniently highlighted screengrab of the Sam's bottle. "They should've made the water bottle king of Westeros," wrote another, perhaps commenting on the scene's purpose, which was to elect a new leader, after the death of Daenerys Targaryen.
"Are you trying to tell me the 3 eyed raven didn't see this shit coming? All hail Bran the Broken, first of his name, ruler of 6 of the 7 realms, 3 eyes, 2 wheels and 1 water bottle. May his reign be long and recyclable," joked a fan. You can check out more reactions here:
The Starbucks cup (which wasn't really a Starbucks cup) was spotted on a table in episode four. The official Game of Thrones Twitter account jokingly acknowledged the gaffe: "The latte that appeared in the episode was a mistake. Daenerys had ordered an herbal tea." The official Starbucks account joined in on the fun, writing, "TBH we're surprised she didn't order a Dragon Drink." Some experts believe that the gaffe generated $1 billion worth of free publicity for Starbucks.
Also read: Game of Thrones finale review The Iron Throne: A disappointing end as all prophecies, secrets, plotlines are set on fire
HBO digitally erased the cup shortly afterwards without any further announcements. HBO had previously edited out two stray cameramen who'd entered the frame in an episode of Westworld.
Follow @htshowbiz for more
Close