Game of Thrones: Maisie Williams thought Arya-Gendry scene was a prank, Twitter weighs in with hilarious memes
Game of Thrones Season 8, episode 2 featured a surprise scene between Arya Stark and Gendry, one that has led to fans flooding the internet with memes. Watch them here.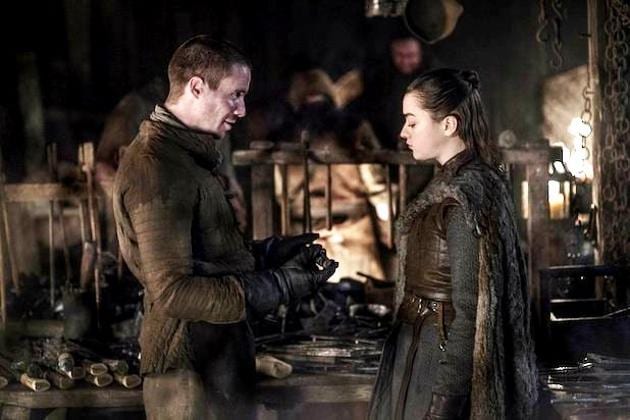 Updated on Apr 22, 2019 07:06 PM IST
The second episode of the final season of Games of Thrones premiered on Monday to great reception. While the critics are going gaga at the emotional reunion of Jaime Lannister and Brienne of Tarth, it is another relationship which has got the social media bursting with memes. We are talking of the surprise scene between Arya Stark and Gendry, the bastard of Robert Baratheon.
(Spoiler alert)
Without doubt, nearly all the memes are about shock and disbelief as nobody saw the sex scene between Arya and Gendry coming. The scene takes place on the eve the mother of all battles -- between the advancing army of the dead, commanded by the dreadful Night King and nearly all the surviving heroes and heroines of Game of Thrones who have come together at Winterfell for the final showdown. Twitter, it seems, was really surprised at Arya and Gendry finally taking their relationship to the next level.
Check out all the hilarious memes here:
Speaking to Entertainment Weekly, Maisie Williams opened up about the said scene. She recalled how when the cast members first got their scripts, it was her co-star and sister on the show, Sophie Turner, who told her that a scene like this is coming her way. She said: "Sophie said: 'Whatever you do, you have to skip to this episode, this scene first'. So I just read that and it was practically all I knew about the entire season."
Also read | Game of Thrones season 8 episode 2 review: Jaime Lannister, Brienne and writers win hearts in one of the most emotional episodes ever
Maisie continued how she did not believe it at first as the series' showrunners, David Benioff and Dan Weiss, have been in the habit of playing pranks as, in the past too, they had sent a fake script to Kit Harington telling him that his face get disfigured in season 1. "At first, I thought it was a prank," Maisie said. "I was like, 'Yo, good one.' And [the showrunners were] like, 'No, we haven't done that this year.' Oh f—k!"
Maisie also told the publication that the showrunners left it to her as to how much she was willing to show. The issue was particularly sensitive as Maisie joined the show as an 11-year-old and has literally grown up in front of the fans and other cast members. Maisie told EW that "David and Dane were like: 'You can show as much or as little as you want'." Adding, "So I kept myself pretty private. I don't think it's important for Arya to flash. This beat isn't really about that. And everybody else has already done it on the show, so..."
Gendry, played by the much older Joe Dempsie, however, said that while it was "slightly strange" for him because he had known Maisie since she was 11 or 12 years old, he didn't want to be patronising towards Maisie as she was "20-year-old woman" now. "So we just had a lot of fun with it," he added. Maisie is 22 years old.
An important takeaway was, of course, the fact that the entire scene makes Arya more human. We know from the character's arc -- how she went from being vulnerable to strong and finally cold. "It was really interesting because it's a very human relationship for Arya," Maisie was quoted as saying.
Follow @htshowbiz for more
Close Story
Personalise your news feed. Follow trending topics