Is Manushi Chhillar a guest on Ellen DeGeneres' show? See pics and decide for yourself
Sep 21, 2018 03:26 PM IST
Miss World 2017, Manushi Chhillar visited the sets of the Ellen DeGeneres Show in Los Angeles, fuelling speculation that she's going to appear as a guest.
Manushi Chhillar knows exactly how to tease her fans. The 2017 Miss World winner is on a vacation in California, and she has posted a couple of pictures from the sets of the Ellen DeGeneres Show, leading many to speculate if she's going to feature on the show as a guest, just like her predecessor Priyanka Chopra.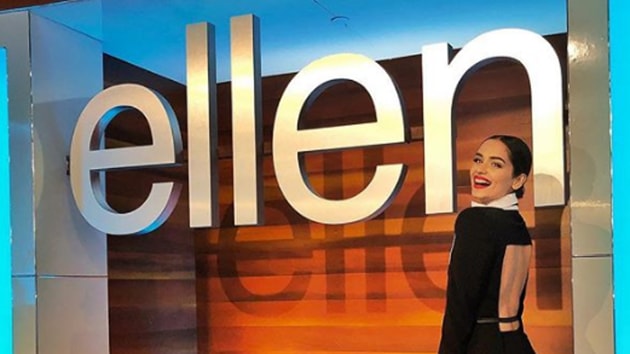 Manushi, who has been sharing many pictures from America over the last few days, posed on the sets of the popular talk show, hosted by Ellen. "Bringing the "palat" to Hollywood," she captioned one photo, in which she is wearing a black pantsuit and bright red lipstick. A day prior, Manushi had posted a picture in which she posed next to Ellen's chair, with the famous Californian palm trees in the background. "When you're here. Nope, not going on the show (yet)," she captioned it, perhaps indicating that she isn't going to be a guest on the show, and only visited the set as part of a tour.
Manushi became an overnight sensation after she was crowned Miss World in 2017. Immediately, the conversation shifted to her Bollywood debut - many former beauty queens such as Priyanka, Aishwarya Rai Bachchan and Sushmita Sen have made the move to the film industry.
In an interview to IANS, Manushi said, "I haven't completed my college and I am also learning something everyday. This industry was something I have never seen and I don't know anything about it. I was not even a person who watched a lot of movies. So for me, it has been a learning experience."
"I do enjoy being in front of the camera and that is something new I have discovered. With all these changes that are happening in my life, I try to take things as they come. When such a situation (Bollywood offers) will come when I have to make a choice, I will know a definite answer," added the 21-year-old.
Manushi was pursuing a medical degree at an all-girls college in Sonepat when she was chosen to represent India at the Miss World pageant.
Follow @htshowbiz for more