Latest Game of Thrones episode lights up Twitter with jokes on Tormund's love for milk and Brienne
Monday's episode of Game of Thrones, A Knight of the Seven Kingdoms, may have been more emotional than the first but it still gave the internet a lot of stuff to talk and joke about.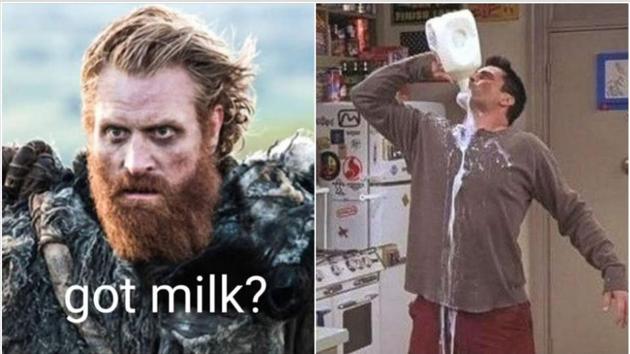 Updated on Apr 22, 2019 09:15 PM IST
Game of Thrones fans were treated to yet another great hour of television on Monday with the second episode of season eight, titled A Knight of the Seven Kingdoms. While the heavy and emotional episode made even the toughest among us cry, others wasted no time in heading straight to Twitter and minting some hilarious jokes about the episode.
The jokes poked fun at Daenerys Targaryen's awkward encounter with Sansa Stark; Arya Stark's sexy night with Gendry; and Bran Stark's creepy lines to Jaime Lannister. However, the one character to earn the most memes and jokes was Tormund Giantsbane. From his weird, unsolicited story about sucking on a giant's breast as a child to the disgusted way he chugged booze, Twitter was alight with a thousand jokes about Tormund. Check out the most hilarious of them here:
Also read: Game of Thrones season 8 episode 2 A Knight of the Seven Kingdoms review: An emotional love letter to beloved characters
Also read: Game of Thrones: Maisie Williams thought Arya-Gendry scene was a prank, Twitter weighs in with hilarious memes
The jokes came earlier than usual as the episode was leaked on internet ahead of its scheduled broadcast time. According to The Wrap, fans of the epic fantasy series alerted on social media about the leak, claiming that the to-be-aired episode was released early via Amazon Prime Video in Germany.
The show, whose first episode of the eighth season premiered last week, airs on HBO at 9 pm Eastern Time. Some social media users responded to the leak. "You can legally watch leaked episode on Amazon in Germany #GameofThrones," a user wrote on Twitter.
A German Reddit user posted, "Why can I see the second Episode yet (sic)?!" The post also featured a screenshot from Amazon Prime in Germany that showed the opening titles of the show, captioned: "Game of Thrones, Staffel 8 [dt./OV] Folge 2" or season eight, episode two.
The publication also confirmed that the second episode was in fact released early, adding that it could be viewed after clicking on an attached link. This is a second leak of the show after the highly-anticipated opening episode of the final season landed on DirecTV Now, four hours ahead of its premiere time last week.
Follow @htshowbiz for more
Close Story
Personalise your news feed. Follow trending topics