Naagin 3 review: Snake woman's deadly tongue action leaves man frothing at the mouth
Naagin 3 review: The relentless show is back with more naagins and more mothers-in-law.
tv
Updated: Jun 04, 2018 13:08 IST
Two episodes in, I think I am beginning to relate to Naagin 3. I mean even I had the hots for a boy in Class 9, who instead went ahead and made out with a naagin from section B in the chemistry lab. Of course, the other woman on this show is a literal naagin, but you get it.
After a darshan of several CGI mandirs and blessings from a CGI lord Shiva himself, we are told it's been six months since the lead naagin's honeymoon was ruined in the last episode. If only time took leaps like that in real life and we could skip through six months of watching angsty reptiles and humans struggling to mate.
With the second episode, the creative geniuses behind the show decided it was finally time to give some context. After driving a wedge between Jassi and Armaan sir almost 15 years ago, Rakshanda Khan is back as a… progressive mother-in-law? Excuse me? She wants her daughter-in-law to be independent and keep working even after getting married? Sorry to confuse you guys but I think I might have accidentally changed the channels. How can a saas not be a satan-spawn, hell-born evil witch who wants nothing but chaos and to drink the blood of her virginal bahu? That's not what the first two seasons taught me. You are putting Sudha Chandran's legacy to dirt. She did not drive a trishul through Shivanya's liver for this.
The wholesomeness of the first saas is balanced by the nuisance of the second, just like her nose is balanced by the two nose pins on both sides. She screams at her dog to stop barking when the poor dude is just silently chilling in her arms. We need icchadhari doggos on this show, might just get millennials to finally watch it.
Choosing one nosepin was worse than Sophie's choice for this woman.
Also introducing, a female lead who is not a naagin! Of course, she may be human but that doesn't mean she won't get synthetic wind blown in her face—in a perfectly sealed room—as soon as her face is revealed to the viewers. Naagin or human, everyone loves the good old wind in their face cliché.
This papa ki pari has decided to marry a walking turd and serial sexual harasser as part of the worst loan repayment scheme ever invented. The Tyaag Ki Murti (TKM), as she will henceforth be known in this piece, bears it with a smile for her economically challenged Stannis Baratheon daddy who lets her walk into the fire, dreaming about the dolla dolla bills he is gonna save.
TKM's turd husband-to-be, however, would not stop feeling up naagins on the dance floor. To be fair, the naagin now looks like Anita Hassnandani—and she still makes my heart ding dong ding dole, provided she keeps her snake tongue in her snake mouth. The new naagin now calls herself Vish Khanna—a play on Vish Kanya—about three dozen times in an hour-long episode and even at the 37th instance, it sounds just lame as it did the first time.
The saree wali naagin lures the turd groom to the same jungle and haveli where he and his friends tried to rape the last naagin. And like when your Uber driver takes a route you didn't approve of and now you are already imagining the worst, the boy is almost wetting his pants.
The naagin could not kill him though and finds a second target in yet another boy who wants some. And then oh he gets some. The poor rapist gets the deadliest tongue action anyone's ever got in a long time.
Leaves him frothing at the mouth. LOL.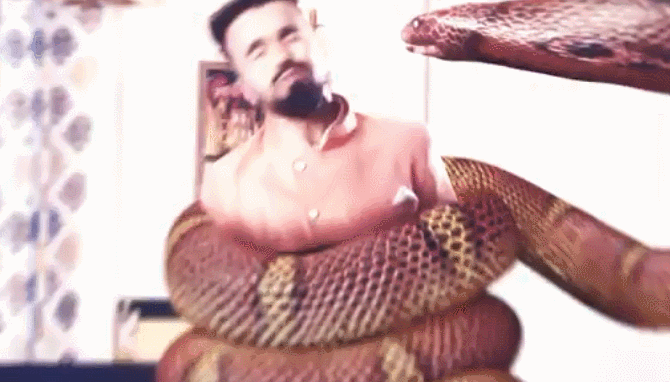 The author tweets as @soumya1405
Follow @htshowbiz for more
Thank you for subscribing to our daily newsletter.