Prashant Nair's Umrika goes to Cairo Film Festival
Prashant Nair's Umrika starring Life of Pi actor Suraj Sharma alongwith Meghna Gulzar's Talvar and Ruchika Oberoi's Island City will go to Cairo Film Festival.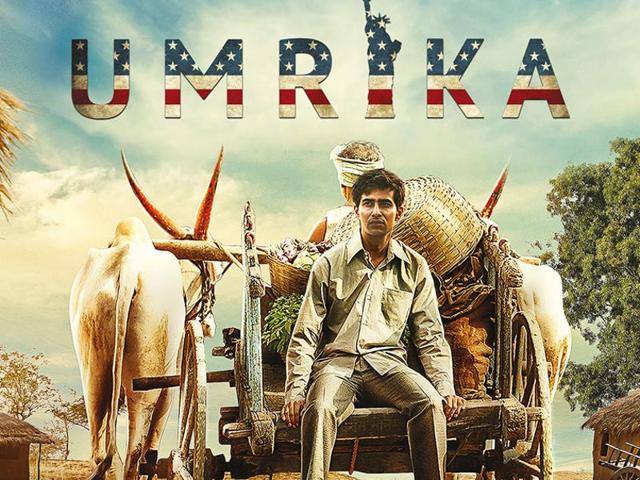 Updated on Nov 07, 2015 12:49 PM IST
Hindustan Times | By Gautaman Bhaskaran
, Chennai
It is always news when an Indian film makes it to the competition of a major movie festival. Prashant Nair's (Delhi in a Day) second feature, Umrika, will be one among the 16 titles vying at the Cairo International Film Festival, starting on November 10. With a motley group of actors like Suraj Sharma (My Life is Pi), Tony Revolori (the bellboy from The Grand Budapest Hotel), Prateik Babbar (Smita Patel's son seen in Dhobi Ghaat) and Smita Tambe (Singham Returns), Umrika (well, for America) is a bitter-sweet story of a young man who travels to Mumbai from his humble village to try and find out what happened to his older brother -- who had left for America but had not been heard of since many months.
The movie -- which won an audience award at the Sundance Film Festival -- opens with Udai (Babbar) bidding a teary farewell to his mother (Tambe) and younger sibling, Ramakant (Sharma), in their modest village home. The mother's anxiety deepens when there is no word from Udai for months on end -- till one fine morning, as if by a strange miracle, a stream of letters begins to arrive. They also carry exotic pictures of America. In various other sections of the festival, one can watch three more works from India. Meghna Gulzar's Talvar is one. Though this movie has been widely seen in India and elsewhere, Talvar is keenly awaited in Egypt -- whose passion for Indian cinema has not really waned in all these decades since Raj Kapoor sang Mera Jhoota Hai Japani.
Watch Umrika trailer here:
Based on the horrific murder of 14-year-old Aarushi Talwar and the 45-year-old man-servant from Nepal, Hemraj Banjade, Gulzar's film may be a fiction feature, but every incident in it actually took place in 2008 and in the following years. The cremation of Aarushi that we see in the movie, the characterisation of her father, Dr Rajesh Talwar (an even-tempered man), and the in-house rivalry in the Central Bureau Investigation (which took up the case later, after the local police botched it up) as well as the goof-up by the Uttar Pradesh police (the murder took place at Noida in Uttar Pradesh) did really happen off the screen.
Read: Ruchika Oberoi's Island City wins prize at Venice
Another Indian movie, debutant director Ruchika Oberoi's Venice screener, Island City, is a disturbing study of how a feelingless metropolis like Mumbai stifles individual freedom, thinking and desire. And Oberoi strings three short stories about utter selfishness and autocratic human behaviour together to narrate her point of view.
Watch Ruchika Oberoi's Island City trailer here:
Oberoi told this writer: "Mumbai starts affecting you from the moment you set foot here and I did so many years ago as a single, young, impressionable woman. Many moons and bitter-sweet experiences later, certain observations and interactions with different quarters stayed with me and I was keen to string them together to see if I could create an impression of these times of transition. "I chose three that offered me the opportunity for some lightness as well as drama. There was the brush with certain slightly humourless upper caste people, known for their correctness, frugality and Brahminical purity, and I thought about doing something that disturbed their stoic sense of morality in a quirky sort of way."
Talvar review: A sharp narrative makes it taut, gripping thriller
The third Indian work, outside competition, is Farah Khan's Om Shanti Om -- a tale of unrequited love and reincarnation which in 2007 saw the emergence of Deepika Padukone. Obviously, Om Shanti Om has been chosen because Khan will be given the Faten Hamama Honorary and Excellence Award by the festival. The organisers said that she would be in Cairo for a day to receive the trophy. She was to have been part of the jury, but dropped out because of pressing engagements at home. Indian actor Radhika Apte has replaced her.
(Gautaman Bhaskaran will be covering the Cairo International Film Festival.)
ott:10:ht-entertainment_listing-desktop

Close Story