At testy trade meet, US presses India on imbalance, wants more market access
Updated on Oct 27, 2017 11:44 PM IST
Both sides paint different picture of meeting, with delegation led by Suresh Prabhu calling the interaction positive while the Americans said their side "expressed concerns"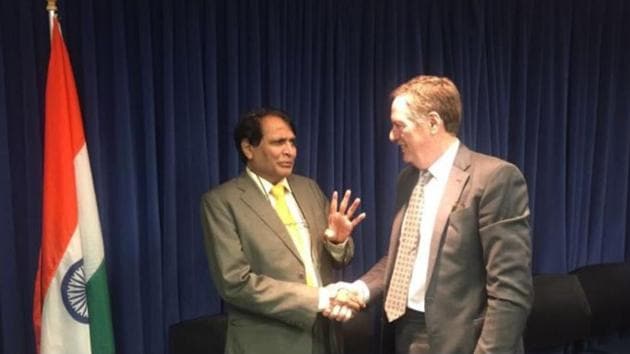 Hindustan Times, Washington |
, Washington
Yashwant Raj
The Trump administration on Thursday conveyed its "concern" over the $29.6 billion US trade deficit with India in a feisty exchange with a trade delegation led by commerce minister Suresh Prabhu and urged them to "further liberalize" the Indian economy to "facilitate" American exports.
Market access, intellectual property rights and, with President Donald Trump in office, trade deficit are the thorniest issues facing the two sides despite their growing ties, and the annual meeting of the US-India bilateral Trade Policy Forum (TPF), a platform for airing them, was going to be anything but testy.
Prabhu sought to play down the differences writing in a Tweet, "Had +ve (positive) discussions with Amb Lighthizer (US Trade Representative Robert Lighthizer, who has the rank of ambassador). "Despite differences over minor issues, alignment on capturing the huge potential of bilateral trade."
Americans were somewhat less diplomatic. "The United States pressed (India) for strong outcomes across a number of areas, including non-science-based barriers to agricultural trade, continuing and new regulatory and technical barriers to trade that impact sales of US high technology and other products, tariffs in a number of agricultural and industrial sectors, market access in services, and protection and enforcement of intellectual property rights," the office of US trade representative said in a statement after the meeting.
It added that Lighthizer, the trade representative, "expressed concern about the $29.6 billion US trade deficit with India, urging the Indian delegation to further liberalize the Indian economy to facilitate American exports."
Trade deficits are a red-flag issue in this protectionist administration and Trump has instructed the commerce department to investigate all of America's bilateral trading relations for deficits caused by, in their view, unfair or unequal trade practices.
India is on that list, way down though. China, the world's second largest economy, topped it with $347 billion surplus in 2016, and is the prime target. Indians have watched that battle closely and concluded a deal is what is needed to win it. Recent crude oil purchases, defense buys of Apache and Chinook helicopters, and a substantial impending order of civilian aircraft (which President Trump noted in his speech with Prime Minister Narendra Modi last June), an official said on background, will cut that deficit almost by half. "No country is doing more than India, we are overcoming expectations."
Indians came out of the meeting frustrated by the "narrow" view the United States had taken, consistently, of trading relations between the two countries, choosing to litigate politically driven goals for small benefits unmindful of larger tangible and intangible advantages traditionally enjoyed by the US.
The two sides could not agree, at the end, on a joint statement, which is standard practice after such bilateral meetings and chose to give their own readouts of exchange.
The Americans were out with their version first. But after registering their standard position on all the standard issues, they conceded, there was a need to accept the differences, to begin with. "Across many of these areas, both sides had differing views that could not be resolved immediately," the USTR office said in the statement.
It was important thus to stay engaged. "There was agreement that it is critical to continue strong engagement over the coming months in order to achieve concrete outcomes before the next TPF."
Indians agreed. Though a statement was still awaited from them — they need to up their game here to keep pace with Americans, they admit without rancor — the commerce minister, a former journalist, set the tone with his succinct Tweet about the need to focus on the larger picture.
Personalise your news feed. Follow trending topics