China says Sikkim standoff 'different' from past, dismisses Jaishankar's comment
Hindustan Times, Beijing |
Sutirtho Patranobis
Jul 13, 2017 07:33 AM IST
China has reiterated that the standoff in Sikkim sector is "different" from similar incidents in the past, saying India should pull back its troops and settle disputes "at an early date".
China on Wednesday said the military face-off in the Sikkim sector is "different" from earlier border incidents as it brushed aside Indian foreign secretary S Jaishankar's remark that the standoff can be tackled since the two countries have faced similar situations in the past.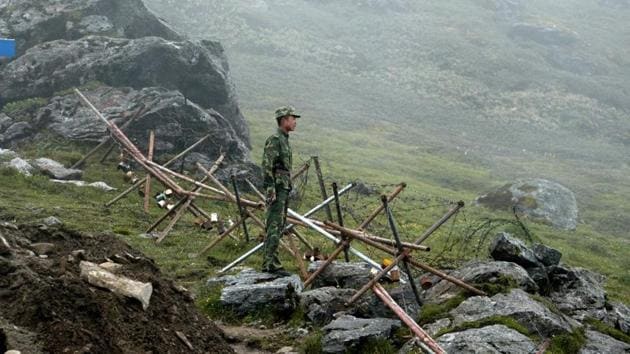 The standoff can be resolved, the foreign ministry said, if India withdraws its troops from Donglang or Doklam region. The area at the strategic tri-junction of India, Bhutan and China, which is under Beijing's control but claimed by Thimphu, has been the scene of a standoff since June 16.
Foreign ministry spokesperson Geng Shuang reiterated China's hardline stance on the impasse when he was asked to respond to Jaishankar's comments at a regular news briefing.
He said: "China has pointed out many times that the illegal trespass into China's territory across a mutually recognised border line is different in nature to frictions that happened in undefined sections of boundary.
"This is totally different from the undefined boundary in the eastern, middle and western sectors," he added.
"We once again require India to withdraw border troops to the Indian side of the boundary and properly settle disputes at an early date," Geng said.
Foreign secretary Jaishankar, while responding to questions on the standoff at a lecture on the theme "India-Asean and the Changing Geopolitics" in Singapore on Tuesday, had noted this was not the first time that China and India had differences along the Line of Actual Control (LAC).
"When such situations arise, I see no reason, when having handled so many situations in the past, (why) we would not be able to handle it," he had said.
"It is a long border, as you know no part of the border has been agreed upon on the ground. It is likely that from time to time there are differences," Jaishankar added.
But Geng cited the 1890 treaty between British India and China's Qing dynasty on demarcating the borders between Tibet and Sikkim.
"The Sikkim section has a special historical background and this is the only defined boundary between China and India and this is totally different from the undefined boundary in the east, middle and western parts," he said.
Geng said that according to the 1890 convention, the Sikkim section had been "defined" and the Chinese and Indian governments recognised this.
Relations between China and India have plummeted because of the military standoff in the Sikkim sector. Indian troops acted in coordination with the Bhutan government to oppose the construction of a road by Chinese troops in the Donglang or Doklam region.
Both sides have deployed more troops in the region due to the standoff.