As time runs out, COP26 tries to reach compromise between equity and ambition
The new draft text changed the language on some fronts to strike a compromise with dissenting parties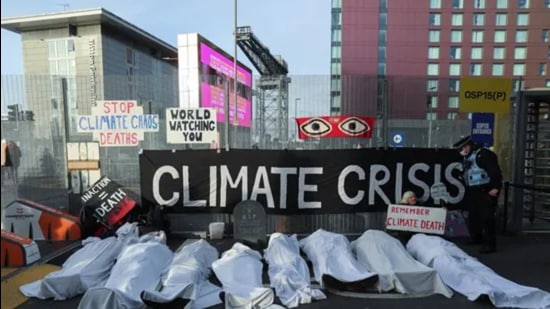 Updated on Nov 13, 2021 06:32 PM IST
A new cover decision draft text was released by the Glasgow climate change conference (COP 26) Presidency on Friday morning after there was no consensus on the previous one released on Wednesday. The new draft text changed the language on some fronts to strike a compromise with dissenting parties. One of those is weakening the language on the phaseout of coal and fossil fuel subsidies. Both coal and fossil fuel phaseout are being explicitly mentioned for the first time in decision texts.
Text on coal and fossil fuels weakened
The previous draft on Wednesday called upon parties to "accelerate the phasing-out of coal and subsidies for fossil fuels" which has now been reworded to "adoption of policies for the transition towards low-emission energy systems, including by rapidly scaling up clean power generation and accelerating the phaseout of unabated coal power and of inefficient subsidies for fossil fuels." Saudi Arabia and a few other developing countries had objected to the clause on fossil fuels while some countries like China and India had also raised concerns with phasing out of coal.
The new draft reaffirms the Paris Agreement temperature goal of holding the increase in the global average temperature to well below 2 degrees C above pre-industrial levels and pursuing efforts to limit the temperature increase to 1.5 degrees C above pre-industrial levels. Instead of "urging" parties to revisit and strengthen the 2030 targets in their nationally determined contributions (NDCs), as necessary to align with the Paris Agreement temperature goal by the end of 2022, the new draft "requests" parties to revisit and strengthen the 2030 targets. Some experts said, "requests" can be considered stronger language than "urges" in United Nations parlance. The Like Minded Developing Countries (LMDC), including India and China, had objected to this timeline for revisiting the targets.
There are no major changes to the rest of the text. In summary: the draft continues to recognise the 1.5 degrees global warming goal; it also recognizes that limiting global warming to 1.5 °C requires rapid, deep and sustained reductions in global greenhouse gas emissions, including reducing global carbon dioxide emissions by 45% by 2030 relative to the 2010 level and to net-zero around mid-century, as well as deep reductions in non-carbon dioxide greenhouse gases.
No improvement on climate finance
The language on finance is slightly stronger but still weak overall without clear timelines. It "notes with deep regret that the goal of developed country parties to mobilize jointly USD 100 billion per year by 2020 in the context of meaningful mitigation actions and transparency on implementation has not yet been met."
The draft urges developed country parties to fully deliver on the USD 100 billion goal urgently and through to 2025 and emphasizes the importance of transparency in the implementation of their pledges; urges the operating entities of the Financial Mechanism, multilateral development banks and other financial institutions to further scale up investments in climate action and calls for a continued increase in the scale and effectiveness of climate finance from all sources globally, including grants and other highly concessional forms of finance.
Progress in adaptation and loss and damage
But there are two redeeming features—on adaptation, the draft urges developed countries to at least double their collective provision of climate finance for adaptation to developing countries from the current level by 2025 as a step towards achieving a balance between mitigation and adaptation. But it still doesn't say 50-50% break-up of finance for adaptation and mitigation which developing countries had been asking for. Loss and damage (mechanism to compensate vulnerable countries for loss due to extreme climate events and slow onset events) has its own section. It recognises the importance of compensating loss and damage the Santiago network on Loss and Damage will be supported by a technical assistance facility to provide financial support for technical assistance for the implementation of relevant approaches to avert, minimize, and address loss and damage associated with the adverse effects of climate change. It also "urges" developed country parties to provide funds for the technical facility and for the operation of the Santiago network but experts said the text still falls short of starting a finance stream on loss and damage.
Carbon market in the making
Draft texts on various aspects of carbon markets or Article 6 were also out on Friday morning. Though most of it remained bracketed, there was some progress, experts said. For India, the issue of carbon markets has been of priority. The environmental integrity of the market mechanism is of the highest concern, experts said. "The issue of the corresponding adjustment (applying adjustments will help avoid double counting of emissions reductions) is at the heart of the Article 6 discussions along with carryover and methodologies. The newly presented distinct options of Paris Agreement Adjusted Units and Paris Agreement Support Units can potentially help address the double claiming issue that is widely debated," said Chirag Gajjar, Head Subnational Climate Action, World Resources Institute, India. Double counting refers to a situation where two parties (buyer and seller) claim emission reduction.
"The text fails to deliver on strong climate action. Only 'inefficient' fossil fuel subsidies need to go out, other subsidies can continue. Coal power need not be phased out, only 'unabated' coal power needs to be phased out. Basically, the updated text is about 'we want everyone to be happy' rather than 'we want everyone to be ambitious.' On finance, the only thing developing countries have got is a more aggressive 'tone' in the text, rather than anything meaningful. So, it is 'deeply regretted' that the USD 100 billion target is not achieved, and developed parties are 'urged' to meet this by 2025. There has been no upping of financial commitments, something that India's PM Modi emphasized on the first day," said Vaibhav Chaturvedi, fellow, Council on Energy, Environment and Water (CEEW). "The financial facility for loss and damage is very useful. But if progress on it is at the same pace as that of the larger finance debate, the delivery will leave much to be desired," Chaturvedi added.
"The latest draft has diluted language on coal and fossil fuels, to only address unabated coal power and inefficient subsidies for fossil fuels. It does mention a new "technical assistance facility" for loss and damage in addition to the Santiago Network. However, overall language on climate finance and loss and damage are still extremely vague and weak, with no mention of specific additional finance," said Avantika Goswami, climate-policy specialist at Centre for Science and Environment.
"Rich countries like the USA, European Union and Australia push back on starting a new stream of finance under the UN Climate Change that is urgently needed to help vulnerable communities facing losses and damages. The biggest historical emitters continue to look the other way as millions suffer from crop failures, devastating floods, ravaging wildfires and are being displaced and forced to migrate to survive," said Harjeet Singh, senior advisor, Climate Action Network International adding that "they do recognise the need to increase finance to address loss and damage but fall short of starting a new stream."
People against 'carbon colonialism'
A fully packed People's Plenary took place at COP 26 on Friday a few hours after the draft text was released. Various constituencies representing indigenous people, gender rights etc compared climate change to colonialism. Ta'kaiya Blaney, indigenous youth activist and a member of Tla'amin First Nation from Salish Sea in British Columbia said, "My lands, waters are under the genocidal legal occupation of the Canadian government… climate change bleeds us of our birthright. Climate change is a symbol of colonialism. Nature-based solutions and carbon markets are false solutions and only lead to the commodification of nature. Tasneem Essop, executive director of Climate Action Network International compared climate crisis to apartheid. "Let's say no to vaccine apartheid; no to climate apartheid those leaders inside are busy signing off and deleting human rights, gender rights from the text…they are not willing to provide financial support which is their obligation. Climate justice now!"
Women and gender constituency activists called for environmental integrity, health justice, climate justice, racial justice. "Leaders keep failing us and they will keep failing us because they just don't have what it needs to get it done. Let's fight back harder and unite stronger and smash the patriarchy," one of the activists said during the plenary. Activists and delegates also walked out of COP26 in solidarity with the cause of climate justice.
Negotiations may extend to Saturday
"This is our collective moment in history. It is our chance to forge a clean, prosperous world. We must rise to the occasion," said Alok Sharma, COP 26 President during a stocktaking plenary on Friday afternoon. He said many texts are not totally clean, brackets continue despite extensive discussions with ministers and delegates on Thursday night. He hoped that these issues are resolved by late Friday evening. During stocktaking, developed countries like Canada, Norway, the EU, among others, said they prefer stronger language on mitigation particularly on the 1.5 degrees C goal.
European Commission in-charge of the European Green Deal, Frans Timmermans, said, there is better compromise on Article 6 in Glasgow than in Madrid (COP25) indicating that the markets rulebook may be closed in Glasgow. Saudi Arabia negotiator said during the plenary that the draft text is attempting to rewrite the Paris Agreement by focusing only on certain aspects of it. "1.5 degrees C goal is a no brainer. Nobody in this room has disagreed. But how and on what grounds? Where are the principles of equity and common but differentiated responsibilities? Without technology, finance this ambition is not equitable."
Close Story